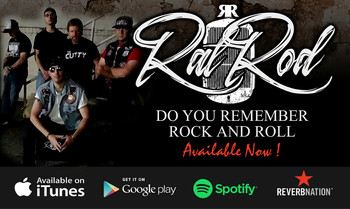 We are so excited to have RatRod here on Valentine's Day 2018. We hooked up with Mark after hearing their single, 'Mirror Mirror' and have been playing these guys since. There is so much to like about this group from Jersey and we knew the Skope audience would agree. Join us today as we chat about the album 'Do You Remember Rock and Roll', forming the band, whats sets them apart, and so much more!
@skopemag: Where are we talking from today and how is 2018 so far?
We are in Somerdale,NJ which is just outside of Philadelphia, so we generally consider ourselves a Philly band. Our 2018 is going great so far. We have been working on new tunes, and playing to some great crowds all over.
@skopemag: How and when did you come up with the name RatRod?
Mike (vox) and I really wanted to come up with a name that stood out but yet signified what we were about. I am a huge car nut, I have old cars and am big in the old car hobby. Mike is equally interested in the art and beauty of old cars. He searched around and came across the term rat rod and we were both like "yes! That fits us exactly!" For those who may not know, a rat rod is an old car that is put together with a lot of different parts not just car parts and not necessarily from the same make or model. It looks a little dangerous at times and certainly rough around the edges, just like us!
@skopemag: How did the bandmates all come together and were you friend as well as music partners?
Mike and I got together through a mutual friend. This friend learned that I was no longer in a band and mentioned to Mike that he and I should get together. Mike contacted me and musically we just hit it off, in total agreement in almost everything. At that point he and I began writing the tunes that became "Do You Remember Rock and Roll" The rest of the members came about as we decided to form the actual band to play the tunes live. The rhythm guitarist Brice, is my son and a very talented multi-instrument musician himself. Elliott Howard our drummer I've known since he was in high school and I knew his talent was unsurpassed and would be a perfect fit as soon as Brice suggested him. LilJohn is our bassist and he came into the RatRod fold as a result of Mike saw him playing in a local club one night. Mike was very impressed with John's playing and stage presents, so he talked John into checking us out, the rest is history.
@skopemag: How much time per week can you devote to the band?
We spend quite a bit of time devoted to RatRod. From rehearsal to writing, to the constant promotion that is necessary to keep this machine progressing, easily halve to three quarters of our non-day job working hours is devoted somehow to RatRod.
@skopemag: You have an album out now 'Do You Remember Rock and Roll'. How long were you writing & recording that album?
We wrote and recorded the album over the course of eight months starting in November of 2016 and finishing in June 2017. We mixed and mastered it between June and August and released it on August 25 of 2017.
@skopemag: How did you guys choose the 10 songs?
We wrote 12 complete songs and had remnants and parts for another 3 or 4. We just chose the best of those tunes based on how they made us feel when we listened to them combined with a limited few people outside the band who gave us feedback.
@skopemag: Will you be doing any live shows to promote the album?
Yes, we are actively playing throughout the northeastern US, primarily in the Philly region but ever expanding.
@skopemag: What does RatRod add to the music scene that you feel it is missing?
In a word, energy. There are of course exceptions, but so many times you go see a band, and the music may be great. The musicianship can be top notch but rarely do you see a group who combines those 2 factors with a high-energy performance. We do. You will not hear a ballad from us. We are not going to "slow it down for you" other than in tempo. You'll get the fast rockers and the nasty grooves but nothing soft or "heart-felt" lol You will not see us stand in one place very long and you will see us sweat!! We put it all out there, we work our asses off for our audience because they deserve nothing less!
@skopemag: The video for 'Mirror Mirror' is awesome. How did you set up the visuals?
You might be surprised to learn that the video was all done on an iPhone! We simple recorded a rehearsal one night, did some editing with an app called InShot. Like much of this project, it's been a pleasant surprise.
@skopemag: What is coming up for RatRod and where you @ online?
We are currently working on our second album that we hope to have ready for release in August of this year. We are continuing to play many shows, in fact we a big show at Philadephia's Trocadaro, music theatre in April opening for Punky Meadows of Angel fame that we are really looking forward to. You can find out all the details when we post them shortly at – ratrodrocks.com. From there you can link to all of our social media, Youtube, and Spotify pages.