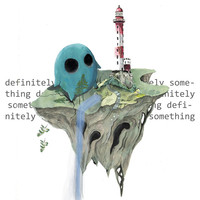 Tom Shawcroft crafts a perfect love letter on the inviting pop pleasures of "Definitely Something". With a classic casual cool, Tom Shawcroft's impressive arrangements and vocal delivery recall latter-day the Strokes. Full of careful attention to detail melodies are positively infectious, the rhythms absolutely giddy. Songs play off each other as the entire album works akin to a series of suites in a greater symphony. Embarking on a grand journey the fantastic kaleidoscope of colors helps to give the album a surrealist bent to it, allowing every element to shine with a tremendous display of color.
With "Silence" Tom Shawcroft sets the tone with a message of defiance placed alongside an ornate arrangement. Quite playful "Silence" expands in a most satisfying way. A nod to classical comes into the fray on "U Don't Give a Damn". Folk influences incorporate into the driving rhythms of "Down That Road". Elastic grooves grace the childlike sense of wonder integral to "Wake Me Up". The electronic effects of "Attitude" lends into a dreamy aura, as Tom Shawcroft brings a lot of style into the proceedings while creating something that feels unique. Bouncing beats punctuate the hazy shaggy dog storytelling of "Cool Kids". Stripping things down the absolute essentials "Now" opts for a multifaceted approach, making it the true highlight of the album. Ending things on a gentle note is the heartfelt ode of "All I Need".
"Definitely Something" shows off Tom Shawcroft's undeniable talent in creating a series of compelling narratives about the ups and downs of relationships.
https://www.tomshawcroft.co.uk/
By BeachSloth