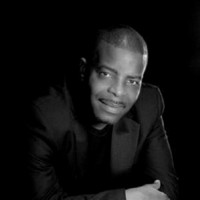 From the beautiful soulful state of Huntington, West Virginia there is a fantastic singer /song writer Steve Jai Johnson. His style is a smooth reflection of his passion as an R&B musician with a fusion of Jazz. His easy laid back back style is hot and smooth like melted butter for the ears. Steve Jai Johnson has toured with many notable bands over the years on the east coast the band "Kid Shalene" out of Virginia Beach, "Skin Tight" out of Huntington, West Virginia, and "The Santa Cruz Band". Steve Jai Johnson has composed an album in collaboration with other extremely talented musical artists George (Egor) Shashin, Lyricist Raymond Fry, Amaryllis Santiago also known as (The Latin Phoenix). Steve Jai Johnson's Album "Take it From Me" was a excellent collaboration between the Midas King Team and other very talented musical artists. The Album "Take it From Me" was released by Play & Oracle records and debuted on the 28th of March 2017. 
I-TUNES: https://itunes.apple.com/us/album/take-it-from-me-ep/1220002516
The album "Take it From Me" is a melodic low key easy to listen to medley of fantastic R&B songs that center around the central theme of hot love in the city. The album begins with the song "Take it From Me" it's a cool fusion of R&B and Jazz melody that is low key and easy to listen to, but it's not overpowering in the arrangement of the song. It's very easy to listen to and relaxed in it's style. The next song of the album is "Nice and Slow". The song starts off with the most excellent vocals of Chrissi Cunningham a very smooth and soothing melodic voice tempered with R&B beats, and board synthesizer mixing. "Sausalito Nights" keyboard meshed with some drums, but not so heavy beats that it is overpowering in it's arrangement of the song. He keeps a smooth flow to the music with a relaxed up beat tone and excellent vocals produced by Steve Jai Johnson and Raymond Fry. "Two Swans on the Water" R&B beats of a genuine love song with a relaxed romantic mix of R&B rhythmic tones with slight drum beats hinting at the beat of a heart beat. The final song in the EP album "Take it From Me" Steve Jai Johnson ends the album with "Tender Love" a crescendo of trumpet, keyboard, and is a bit more Jazz in it's arrangement then R&B. He end the song as smooth as the album began with the words tender love fading into the background it's Quite poetic in it's arrangement. The song "Tender Love" was arranged by Raymond Fry, Antoinette Koprowski-Ruiz, George (Egor) Shashin and Steve Jai Johnson.
It's a great album if your looking for something easy to listen to, very relaxing. Steve Jai Johnson definitely did a great job incorporating a theme into his work and I love that it kind of gave it a story-line and a theme of love in the city. In this wonderful collection of well put together songs Steve Jai Johnson combines a conglomeration of easy listening R&B rhythms and smooth jazz arrangements. Very reminiscent of old school R&B in it's sound. Which can be great depending on the type of music you are looking for. Really Steve Jai Johnson put together a really great album it's well put together and easy to listen to.
If your looking for a great R&B album that is easy to listen to and very relaxing Steve Jai Johnson's EP "Take it From Me" would be a great fit for you. This is a great album and if your looking for that extra spark that only great R&B can give you Steve Jai Johnson's is an excellent fit for you. If you would like to know more about this great musician you can check out Steven Jai Johnson's most excellent work "Take it From Me" on Apple iTunes on Apple music you can follow the link bellow.