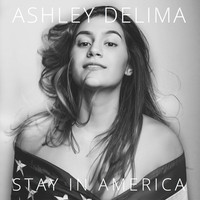 Ashley Delima's "Stay in America" is a rousing single passionately advocating for the uncertain futures facing many immigrants attempting to stay in America. Make no mistake, however, that this isn't some dry politically inspired diatribe ripped from current events. Instead, Delima's single is a very human song led by a tremendously emotive vocalist guided by the experienced and award winning production skills of Marc Swersky. It's an intensely dramatic musical piece with undoubted commercial appeal and the high gloss shine surrounding the performance will surely help Delima get the song's message over with listeners even more strongly while never failing to entertain them. There is a message here, definitely, but there's effective and physical music coupled with it and the sense of a major league talent just beginning to blossom. Coming in on the ground floor of experiences like this isn't plentiful in our modern era and there's no doubt Ashley Delima is going places on the basis of this song alone.
There's a lot of tasty guitar adding color to the song's melodic strengths and an assertive, yet even handed, drumming performance that gives the tempo so much of its airy bounce. Delima, Swersky and Brielle Brown's songwriting efforts built effective and dramatic transitions into the song that the musicians carry off with precise, yet breezy gracefulness and the mix by Veteran Mixer Mark Needham (The Killers, Pink, Imagine Dragons) neatly ties those strands into Delima's voice for a fine overall effect."Stay in America" comes off as a song tightly focused on the message it wants to communicate and brings ample artistry and craft to bear in their efforts to do so. There aren't any sideshows with this tune.
Delima is the dramatic heart of it all. Her voice swings and winds with the vocal melody with absolute confidence and her ability to dramatically embody the lyrical content doesn't show any signs of uncertainty. There's a certain amount of literary flair, perhaps unexpected, in the eloquent way Ashley shapes the song's message and she puts every bit of herself into it with an audible level of commitment that draws you in. She knows when to push the issue and back off as a singer and uses her voice in such a way that any outright comparisons to her contemporaries are fruitless. She has an individual style all her own that's, nonetheless, productively informed by her own influences rather than controlled. "Stay in America" is a resounding success in every respect and kicks off Ashley Delima's career with great fanfare. She is an entertainer and artist with the artistic gifts to remain with us for decades to come.
Photo credit – Jesse Lizotte
Review By – Pamela Bellmore