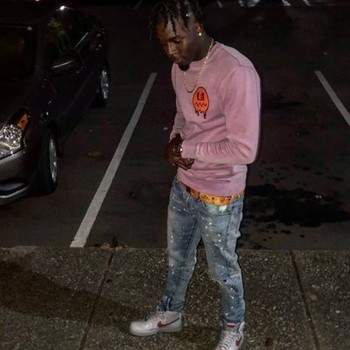 We are here on the first Tuesday of February 2018 and we are here with a ferocious emcee, A'France. We got hip to this young musician with his singles 'Curious George' and 'Struggle.' He offers exactly what we love about hip hop with unique vocals, strong beats, and real life content. Join us as we talk about his new EP, lean, how he got his alias, and so much more!
Stoli: Where are we talking from today and how you feeling about 2018?
We talking from Tennessee right now and I'm feeling pretty good about 2018. Feel like it's going to be a lot of growth going on this year.
Stoli: When did you really start to see music as a potential career?
I first seen it as a career back in November of 2017. Things started to take off a little bit for me and a lot of people rocking with my sound and my movement.
Stoli: How did you get the musical alias A'France and how did that name define your sound?
Man my brother Dunkin called me that one time and it just kinda stuck. I ran wit it and everybody else did to, but that was before the rap. I chose to use it as my rap name because it was so original. My name "Anthony Francis" so it's just a piece of that made into one. Plus my music is about my life so my name just kinda stamped it I guess you can say.
Stoli: When you get ready to sit down and make music what setting & mood must you be in?
It depends really, sometimes I like it quiet with just the beat playing so I can think of crazy ways to tell my story. Then again I might roll up a blunt, get some homies in there with me and we turn up. When I do it like that I really catch that vibe on the beat and just get to spitting shit. That's why when you listen to my music you can listen to my lyrics and catch that vibe at the same time. Now when you listen to my music your head won't stop nodding until the song go off!
Stoli: How long would you say it took to perfect your signature sound and how do you seek out producers for beats?
Man that shit was hell! It probably took me like a year.. yeah about a year or shit maybe a little more! It was difficult to find a sound that I feel comfortable with but also could be versatile with ya feel me. You'll know when you found it bc everything will just kinda flow when you trying to make a song. But for the producers and shit, I usually try to connect with different producers or go to one of my dawg's listening sessions and meet new people. If you in a music environment I'm pretty sure it's go be other people there that's a producer or photographer or at least an artist. So I just really network and pick a producer that can make beats to fit my sound of rap ya feel me.
Stoli: How was growing up in TN and what is Nashville like for an emcee coming up?
Growing up in TN was straight. Just like everywhere else you go really. You got good parts and you got bad parts. But I know one thing though! If you an artist coming out of Nashville, you go have to network with different people from out of state and all that! Because you ain't really go be getting love from here! You know it's hard to get love from your hometown.
Stoli: Who are two established emcees that you admire & listen to and why?
Uhh man I listen to a lot of people but I would have to say Young Dolph and Kevin Gates. They both make real music speaking on real shit but, more importantly they being themselves. If you not being authentic when you rap it's go catch up to you in the long run. I try to just speak on topics I know about but also look on the
Stoli: Drinking lean has shown to have serious health consequences, do you partake and if explain why or why not?
Man I ain't go lie lean good as hell. Like the taste of it. That shit taste better than cool-aid! But I don't drink that shit! I have in the past but nah not anymore, because that shit really hit you in the long run. I'll stick to my weed I'm straight on everything else.
Stoli: I love your single 'Curious George v2'. Who made the beat and what inspired the lyrical content you speak on the track?
Made the beat. With my music I don't like to speak on things that I don't know about or haven't experienced. All my music come out naturally bc it's real life shit, but I also try to give you a vibe with it aswell. For the people who can't relate to what I'm saying I make that vibe catch them fasho!
Stoli: You have an EP coming out soon. Please speak on that and will there be a music video for one of the songs?
Yeah definitely! My EP will be coming out in the spring time. Nothing but fire go be on them tracks! Also I'm looking to shoot a video to about 3 of the songs, but before my EP I'll be dropping a single first followed by a music video. So y'all stay alert!
Stoli: When you consume music do you buy or stream and what platform you use?
Honestly speaking I usually be on a couple different sites for music. I use Spinrilla, YouTube, Spotify and Apple Music. Those are like my go to platforms.
Stoli: What's coming up for A'France and where you @ online?
I got a couple things coming this year. Ima stay busy to keep y'all happy with my music so tune in with the kid.
Instagram: afrance.officially
Twitter: Ah_ThatsYoGirl