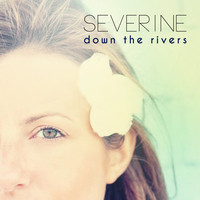 Severine's "Down the Rivers" is a new peak for this blossoming young performer and songwriter whose American birth and European upbringing gives her a wholly unique flavor in the pop world today. Severine is a musician with massive talents and her ability to handle writing her own material while never sacrificing any of her performing focus or lapsing into self indulgence sets her apart from scores of contemporaries quite clearly working in pop music to either make a quick fortune, entertain, or both. Instead, Severine's music is intended to be a vehicle for self expression allowing Severine to show her inner self to the music listening world. "Down the Rivers" sports an even better lyric than we heard with her debut single and title track on her upcoming EP "Not Obsessed" and she's elevated her vocal performance to ensure its delivery hits all the right marks. Her primary collaborator on this song and others is producer Anthony "Rocky" Gallo, onetime chief engineer for The Cutting Room studio, and his assistance helps give this performance the needed shape to realize its potential.
The bloom of her skills is in full effect on "Down the Rivers". It begins with a surprising amount of understatement before the song launches fully into its main musical body and there are a variety of melodic and tempo shifts along the way guaranteed to keep listeners on their toes. This element of surprise in what Severine does is something you rarely find with performers working in her style, no matter their age or experience level. Anthony Gallo's production seems to intuitively understand how to best present here and there's never a discernible moment of uncertainty heard during the song. The arrangement ends as the song began – vocalist and instruments alike stepping back, slowing things down, and bringing things to a close in the manner of a leaf wafting gently from a tree branch to the ground below. Despite its pop pedigree, the elegance of this performance is as impossible to ignore as its passion. Both qualities come through in every minute of the performance.
Gallo's production is a major part of the story here, but it all begins with a mastery of fundamentals. Simply put, Severine knows how to write a song. "Down the Rivers" is definitely a sleek, warm modern pop track fueled by electronica, but strip away the tinsel and cutting edge sound and you'll find you could put an acoustic guitar track alongside her voice and still have a fine piece of musical art. They simply don't write or record singles like this anymore. Severine and songs like "Not Obsessed" and "Down the Rivers" is a satisfying and solid rebuke to the idea that modern pop is more disposable than ever before and has no potential for making a substantive personal statement. It will certainly engage you physically and emotionally without ever making you feel a little guilty for enjoying its charms.
https://www.instagram.com/severinemusic/
By – Pamela Bellmore