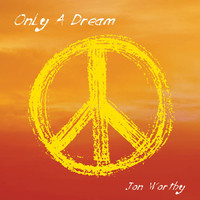 Jon Worthy embraces a bright sunny indie rock sound with "Only a Dream". Full of fire and passion the songs possess a summery disposition to them. Optimistic to its very core, at times Jon Worthy's casual cool and glimmering grooves recall the work of Spoon. Lyrics have a mellowed poetic quality to them, for his voice delves into a reassuring comforting tenor. Best of all is how these many elements come together: the infectious rhythms, the memorable memories, and the sing-along lyrics.
Stream: http://jonworthy.bandcamp.com/releases
Blasting off with a careening guitar riff "You Drive Me Insane" opens the album with such energy. Giddy with energy the song offers tremendous bursts of volume in the best way possible. The gingerly take of "Have It Your Way" possesses a charming disposition, even touching upon a little bit of the blues within its multi-faceted approach. Stripping things down to the essentials "Please Tell Me" goes for a western twang, as the composition sprawls out. Tapping into the power of the Strokes "Life I Believe" serves as the true highlight of the entire album, with lyrics possessing a reflective thoughtful message. Jangling guitars lend "You Afraid" a raw garage rock quality. Heavy riffs race through on the spirited celebration of "Holding Me Down". "So Alive" brings the entire album to a conclusion, reflective with a plea for togetherness.
https://www.facebook.com/jonworthymusic
Referencing classic and indie rock while creating something uniquely his, Jon Worthy's "Only a Dream" radiates with a tremendous amount of joy.