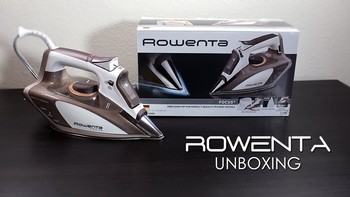 Whether you have a meeting or going on a date, your clothes need to be ironed perfectly otherwise you won't be able to leave a good impression on others.  Irons are the necessity of every household, important stuff to keep your clothes look good.  There are lots of irons out there, but not all of them are good enough to be used.  Rowenta irons, on the other hand, are gaining popularity among customers due to which more and more people are looking for Rowenta DW5080 Review.  So, we have got your words and going to give a brief review of this iron. Let's get started!
Let's start with features
Sole plate made up of stainless steel with precise tip
Though ceramic is considered better material for making sole plates but stainless steel is as good as the ceramic one. It is durable, doesn't scratch or rust and doesn't lose its shine for a long time. The iron works great on fabric material by consuming less energy.  The model also has an aluminum core which leads equal distribution of heat evenly and quickly across the plate. Rounded bottom of the sole help with the creasing problem which tends to happen a lot while we move the iron back and forth.
Power: 1700 watts
1700 watts power is quite impressive and close to what expensive models have. The iron heats up within one or two minutes and produces more steam as well. The results of lower wattage irons are not impressive due to which people prefer irons comes with higher wattage.
 400 micro steam holes
Rowenta has the highest number of steam holes one can't find in any other brands.  They are equally distributed across the iron surface to remove crease with ease.  This is an exceptional feature due to which it provides better results.
Anticalc system and self-cleaning feature
The iron comes with a self-cleaning feature.  It flushes out impurities and deposits accumulated inside the lock chambers and iron. Hard water contains magnesium and calcium which leads to such deposits.  Device "burst of steam" feature is excellent for cleaning vents.  Anticalc system, on the other hand, meant for preventing the buildup of hard water elements that could ruin it. The feature increases life spans of the device and at the same time make sure that it remains clean and work efficiently.
 Three ways auto off
Though the feature is quite common but it does prevent accidental events like fires or electric shocks while using iron.  When you left the device in the upright position, it gets off after 8 minutes. Same things happened when you left the device on its tip or base.  The feature gives peace of mind to its users and ensures safety as well.  The device is the safest, it can even be used by your kids, and still, they will be far away from any danger. It sometimes happens that the user forgets top off the device which is risky but this auto-off feature can save your investment and your life.
Burst of steam
Many irons can't remove wrinkled creases properly due to lack of an efficient burst of steam feature. However, Rowenta's this feature can tackle stubborn creases plus its help in cleaning the iron properly.
10 oz water tank
It contains a water tank which is quite bigger than the size of other brand tanks. To avoid dripping, it has a level indicator that reflects the safety level.  Because the device has various steam holes, tanks get drained faster than you think.  It's quite frustrating when one has to fill tank frequently. However, the features spare you from this hard work.  One can also use tap water to fill the tank.
Vertical steam 
The feature let the user remove creases on clothes and garments.  As we know, some places are hard to reach as well as difficult to remove creases.  The feature help with such crease issues.
Rowenta DW5080 Review – pros and cons
After discussing its features, let's see the pros and cons of the device.
Pros
Micro-holes let the device to produce lots of steam and remove creases efficiently and quickly.
Because the product is made in Germany, it less likely to be defective. Along with this, German products are of high quality and offer maximum satisfaction.
It has a precise tip that let us get rid of crease easily by facilitating easier navigation.
The device comes with an enhanced anti-drip system which prevents dripping as well as leakage.
The soft, tough rear of the device provided extra stability when you left the iron on its heel.
Cons
The device gets heavier when we fill it with water. Unlike other models, it is heavier and might not be comfortable to use for some people. If you have a mountain of clothes to iron at a time, then it can give you painful hands.
It has larger tanks, but still one has to fill it more often because the water gets exhausted very quickly.
The device is a bit pricy as it cost around $100. However, if you don't want creases on your clothes than that much of money is worth investing. There are other brands on the market as well that cost less than Rowenta, but they aren't good when compared to this device.
Conclusion
The Rowenta DW5080 Review has shown you all the features, pros and cons of the device. No doubt it is an efficient device, and one of the best iron models exist in the market. It is trusted brands, and almost all reviews of this product on the internet contain positive points.  Talking about the feedback of the device then customers has given a good rating to the device at IronsExpert which is one the best review site on specially on irons. This iron is available in online stores from where you can get discount. So, is it worth investing in Rowenta? Yes, the product has a good customer base which is enough to prove its efficiency. Many satisfied customers have approved this product and thus it worth buying.