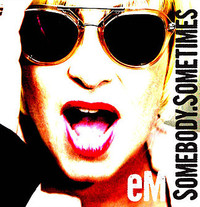 The Australian sensation is back with a music video that is out of this world!  Electronic Dance Music (EDM) is her bread & butta as eM has been mixing it up for years on the music circuit.  eM is an established & accomplished artist/producer/vocalist who I've known for a long time and have had the pleasure of working with her on numerous occasions.  And what I've come to learn in that time is that eM is always thinking outside the box coming up with the freshest material.  The new "World of Impossible" music video/track is no exception to that rule and you can SKOPE it out right here:
I have to talk about the visual aspect first off because the imagery is absolutely mesmerizing.  This cool effect is made possible by a travelling bullet train in Japan with rain coming down in the frame.  The result is pure wonder and imagination that will put your mind at ease with the tranquil vibe in place.  I'd say there is a meditative quality to this track/video where the listener will just want to put the brakes on for a second, smell the coffee and embrace the moment.  You don't even hear eM until 3 minutes in where she comes in with her soft 'n' sultry vocals.  The build up to eM's entrance works very well and allows the listener to get lost in the music.  I like to think of eM as having a "James Bond"-type quality here because her voice & image embodies an element of mystique on "World of Impossible".
This music video/song was produced by Jerome Zambino and actually penned years ago.  I'm so glad "World Of Impossible" is seeing the light of the day now because it certainly captivates an audience with its calming touch and mysterious tone.  "World of Impossible" is on eM's new EP titled 'Somebody. Sometimes' that was just released on January 11th.  Anything is possible with eM and based on this new music video, I am sure that the EP will be a certified knockout.
By Jimmy Rae (jrae2@att.net)