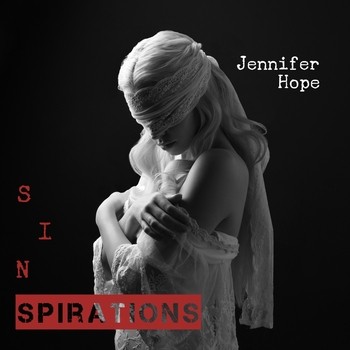 Jennifer Hope is out with a new acoustic EP called SINspirations, a dark and whimsical collection of songs featuring three covers and one original song, "#1 Deadly Sin." Hope is based out of California and is known for her enchanting and otherworldly sound. It's an EP with a unique and haunting charm that will send you to another place entirely.
The first track is "#1 Deadly Sin" and it is my personal favorite. Within a few seconds I had an idea of what I was walking into and I was excited. Hope likes to bring in contradictions to her music, and this song is a perfect example. It starts off and you think it's going to strictly be a dark song, but the chorus comes in and there is something so whimsical and hopeful, even though she knows loving this person is a mistake. The lyrics are so beautiful and the arrangement of the music is fascinating. I love this song. It makes me want to listen to more of her original work.
"Hurt" is likely the weakest part of this album. While technically fantastic, it doesn't carry the weight that you'd expect. Between Nine Inch Nails and the utterly devastating cover done by Johnny Cash, I can't imagine being someone able to bring their own spin to this song without falling short of the impact left behind. It almost feels like she was trying too hard to reach that same deeply rooted emotion that makes "Hurt" so beautiful and tragic in the first place.
Audio/Buy: https://itunes.apple.com/album/id1331275547
"Dancing In The Dark" with the Jennifer Hope spin is something you should experience. She doesn't change too much and it is the lightest song on the EP, but it is calming and I would gladly listen to it at any time. It's a duet and the man she sings with is definitely the star of the song. I love his voice, it's whispery but smooth. This song feels like ASMR and I can't get enough. The guitar work is gentle and left me swaying around. Overall, this cover was a home run.
The last song is a cover of Linkin Park's "My December." Hope released it for the One More Light charity following Chester Bennington's death, and she included it on this EP. It stays true to the original, but it's chilling and tugs at your heart. It already hits a sore spot, being a Linkin Park song, but knowing why she released it and hearing that raw emotion in her voice. Hope sounds beautiful in each track, but this song in particular truly showcases her power. I wanted to listen to it more than once, but I was already tearing up from the first time. It's definitely a must-listen.
Jennifer Hope has an enthralling sound that took me to another place. She markets herself as someone who has her own world that you're able to get a glimpse of through her music and she's not wrong, not in the slightest. It's impressive. SINspirations is a great EP that showcases her talent brilliantly.
By – Victoria Patterson