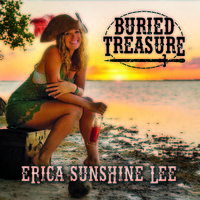 I have to say that this new album is perfect timing with the frigid, cold temperatures we're experiencing here in Indiana as well as many other parts of the country. Erica Sunshine Lee is spreading plenty of sunny sound that warms me up from my head to my toes on 'Buried Treasure'. This Georgia Peach is a Nashville Recording Artist, international touring singer/songwriter and has been called "The hardest working woman in country music". I believe the hype and I'm hooked in as Erica Sunshine Lee takes her Southern charm to the sandy beaches on 'Buried Treasure'.
Right away, you are drawn in with the inviting cover art depicting Captain Lee (minus a hook for a hand) holding a bottle of rum, wearing a Pirate hat and sitting on top of a treasure chest. If that's not a Pirate I don't know what is! Lee even proves it on track two, "I'm a Pirate", where she confidently sings: "Yeah I'm a pirate cause I got the booty. Yo-ho-ho, I got a bottle of rum and you wanna get some." Complete with sexy, nautical attire, shining smile and bright sunset along with plenty of water and sand, the cover art makes you want to take a dip and take the plunge for Captain Lee's 'Buried Treasure'.
The style, overall, is fun & loose with catchy country pop that is the perfect summertime soundtrack. Erica is kickin' up sand and getting' the party started with fun-in-the-sun tunes that are bubbly. I can't overlook Erica's voice that is like "Walking on Sunshine" (Katrina & The Waves) because her vocals are beaming. And her singing invokes a sort of charm that pulls the listener in with the pleasant & strong tone. Erica's songs have a way of captivating an audience because they connect with common themes and are very radio-friendly. Sunshine Lee creates a fun-filled atmosphere that everyone can relate to and enjoy. I never even had a Mojito but her song "Mojitos" makes me want to drink one due to the intoxicating style and cool, tropical feel. And worth noting that Erica Lee decided to end the 12-track album on a sweet, sentimental note on "I Do" proving that this frisky pirate can sail through any musical waters.
'Buried Treasure' is full of shiny gems and is pure gold in my opinion. Erica Sunshine Lee is letting it all hang out here and just like Cyndi Lauper this girl just wants to have fun. If you don't like Erica Sunshine Lee or her 'Buried Treasure' then I have four words for you: WALK THE PLANK—ARRR!
https://www.ericasunshinelee.com/
By Jimmy Rae (jrae2@att.net)