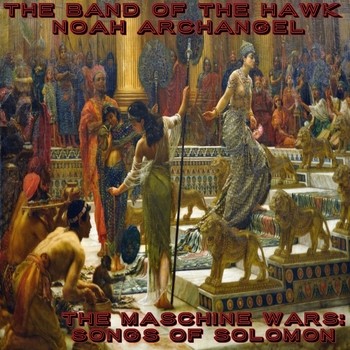 Noah Archangel & The Band of the Hawk are at it again pumping out tracks like madmen mercenaries as I'm starting to think these guys are some of the hardest working kats in the rap game today. Relentless with material, Noah Archangel & The Band of the Hawk deliver 22 fresh mixes and cool cuts that are off the chain. 'The Maschine Wars' is actually a third installment of an instrumental series and 'Songs of Solomon' is the latest creation.
Just like the Teenage Mutant Ninja Turtles dwelled in the sewers cuttin' up pizzas, Noah Archangel & The Band of the Hawk are slicin' & dicin' the competition below the surface devouring any MCs that dare to step up. It's no wonder that they are also known as BOHUP (Band of the Hawk Underground) because the sound is straight from the underground. The listener will have a wide spectrum of styles to eat up here like classic lines from movies and songs. I heard an old-school flavor on many of the tracks but also picked up on an element of surprise & intrigue throughout like on "Macknificent Breath" that has a whole Freddy vs. Jason theme going on. Then, get ready to grab your controllers as the Master Blasters attack the enemies with funky, fresh shots of super, slick audio on "Rogue 777" and "Divergent". Feels like these particular tracks could be perfect soundtracks to video games with the fun and adventurous tone. BOHUP ends on a Fierce and Furious note with "Black Lotus" (Featuring Yeaux Majesty) that has blazing, HOT beats & rhymes.
LP link: http://bandofthehawk.com/tracks/a/the_maschine_wars:_songs_of_solomon
Noah Archangel & The Band of the Hawk are manipulating sound with such finesse and ease on this 22-track and it will put some extra bounce in your step for sure. 'The Maschine Wars: Songs of Solomon' is bringing out the heavy artillery onto the hip-hop battlefield where the BOHUP crew is firing away and standing tall. In the end, I would say that they won the fight because these Dope Sound Soldiers keep bringin' the explosive noize and never quit!
By Jimmy Rae (jrae2@att.net)