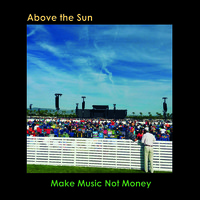 Above The Sun injects a playful sense of humor in their anthem-driven "Make Music Not Money" being released on January 12, 2018 via Bongo Boy Records. Crafting songs that virtually demand to be sung along with, Above The Sun embrace a casual cool which informs the entirety of the collection. Punk rock, indie rock with a dash of classic rock all of it comes together in a glorious colorful way. By far the true heart and soul radiates from the thoughtful lyricism, one that celebrates relationships, creating art, and simply having fun. Reminiscent of Weezer's debut album, the songs have a great sincerity and joy to them that drives them forward.
Easily the highlight of the collection comes from the title track, the powerful "Make Music Not Money". Opening up with a monologue, things burst forward into an infectious groove quite quickly. Spacious with its driving rhythm "Dumb" chooses a clever narrative as the song breaks down into pop, funk, while showing off their impressive chops. A summery style takes hold on the lovely "Always Be". Fanfare reigns supreme on the universal themes of "Pale Blue Dot" with multiple layers adding to its celebratory spirit. Showing off a funky attitude the track moves forward with a swinging attitude. Building up with such ease "The Weight is There (Upon Your Shore)" offers a majestic thoughtful approach.
With "Make Music Not Money" Above The Sun delve into a sunny pop rock perfection, one with clever riffs and memorable hooks that linger in the mind.
Official WebSite: https://bongoboyrecords.com/abovethesun/