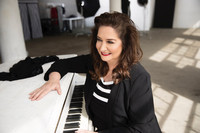 Valerie Fahren's own career as an artist started in her teens when New York City radio began playing an original song by her band Gypsy. She has starred in principal roles in Equity productions of Fiddler on the Roof, Carmen, and Three Penny Opera; recorded with The Wilson Sisters, Neil Diamond, Edgar Winter, and Chick Corea; and had her own songs recorded by many other artists, including David Arkenstone. But as an artist developer, her clients have performed with such artists as Chaka Khan, Jessica Simpson, Beck, and others. Her new single "Say You Love Me" garners world-wide acceptance with no question.
This is a singer-songwriter with all the passion, heart and soul it takes to be heard in any generation, with a hot new single to show it. She does an assortment of things for other artists which takes up enough time, so getting a single out seems hard to pull off, but make no mistake about it, this holds up with anything out there today, with "hit" written all over it. The song is about meaning what you say, and you can't get around that, so it's an easy subject to nail, and nail it she does. It harks back to all that was good about music, once upon a time. And that's not to say there's nothing out there to offer, she just happens to have it all.
Buy:
https://itunes.apple.com/us/album/say-you-love-me/1286760053?i=1286760064
You won't want to live with yourself if this song is about you, and that's only some of the magic spell it weaves, depending on who's listening. But let's just say it's about all those lies people tell to keep someone grounded in their ways. But you can make your own meaning as well, and that's what a great song is all about. Her vocals are well-rounded off by the meaning of the lyrics, and the backing musicians all pull off an artistically astonishing studio performance. She'll have you 'like a puppet on a string" instead of herself in just one listen, by the time the song is over. It's a track that well arranged.
Stream:
https://soundcloud.com/fahrenproduction/say-you-love-me
If you like smooth jazz, it verges on that too, with something to say in all contemporary radio formats without forgetting classic appeal. You can define it by a multitude of genres or not, depending on whether-or not you use these categories, but it's also a grand effort to dismiss being pigeonholed as well. It somehow lands everywhere and on its own two feet on the same coin with no obvious aim, but a mainstream result nevertheless. This is the mark of any good song, but not everyone can do it, and that sets her apart from anyone. She sets her own bar very high, and it's worth keeping both ears to.
Where Fahren goes from here is a great question, because if her journey includes an album release it would entice all-the more, but this single release could lead to some more singles or an EP and even that would suffice on paper. But imagining ten to twelve tracks of this proportion, and if that happens between her activities then her fans can be ready for quite the emergence. Either way, this single packs everything it takes to reach the masses, and with connections as far and wide as hers anything's possible. It's easy to be inspired by artists of the day such as Adele, but this is one that comes with the same levels of inspiration herself.
Photo credit SHANNA FISHER
Elvin Graham