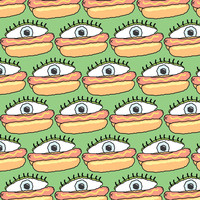 Play Pretend represent the best of lo-fi garage rock on the underdog anthem "Summer Heat". Over the course of the track Play Pretend go for the jugular as everything positively roars, from the ramshackle rhythms to the raw unhinged bluesy riffs. Downright infectious with melodies that linger in the mind long after they are over, it all works and works wonders. At times, Play Pretend is reminiscent of similarly structured garage rock revivalists like Harlem and the Jacuzzi Boys, and Play Pretend absolutely demands attention. Volume needs to be blasted for there is a physicality to the whole sound. Best of all are the playful joyful lyrics, that nicely merge with the overall celebratory mood of the entire piece.
Audio: https://playpretend.bandcamp.com/track/summer-heat
Nary a moment is wasted before Play Pretend rush into that gritty groove. Full of a certain level of warmth thanks to all those layers of distortion, the song represents an embodiment of a carefree defiant attitude. Even the lyrics focus upon the duality of it all: being creepy yet caring at the same. Oddly affectionate it is this tenderness that rests at the very heart of it all. Layer upon layer comes together in a spellbinding surreal take. Gradually the entire thing breaks down in a most satisfying way. By the very end Play Pretend has nicely settled into a tension-building finale before it bursts forth in a glorious wave of noise.
https://playpretend.bandcamp.com/
With "Summer Heat" Play Pretend sculpts a gorgeous world, one that feels full of hope and possibility.
By Max Schuster