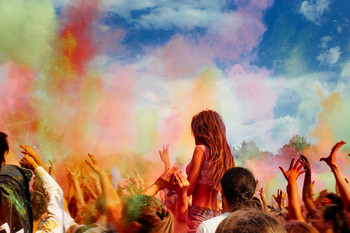 We all need a little fun in our lives regardless of the age. Although the time on our hands is mostly used for family, travelling to some vacation spots and other usual leisure activities, there is also a one more fantastic way to spend it – at the festivals. Many travel agencies offer tours and trips to almost every big festival in the world, including accommodations, tickets and transport, so that practically all you have to do is pack your bags. There are so many attractive and fun festivals that it's sometimes very hard to decide where to go first, in spite of money.
However, festivals vary in type, program and experience, so it all comes down to what kind of fun you are looking for. Since the world is full of these festivities and events, here are some suggestions to help you sort out your list and decide where to go first.
1.   O.Z.O.R.A.
Ozora is a village in Hungary which played an important role in the 1848 Revolution. And since 2004, it became famous for the psychedelic trance festival taking place on an estate in Dádpuszta. In 2015, the attendance counted 60,000 visitors and is considered to only grow more and more due to its huge popularity. The idea for the festival started during the Solar eclipse in 1999 when the first party to celebrate it called Solipse took place. In 2018, O.Z.O.R.A. Festival will be held from July 30 to August 5, so you have plenty of time to put it on your schedule.
2.   Burning Man
Every year, for 31 years now, the temporary constructed site in the Black Rock Desert, Nevada, USA, hosts the Burning Man Festival. Held in the late summer, this event is connecting the community with art by exploring self-expression, talents and creativity. These artistic explorations include building, performance, sculpture and other forms of representing the passions and inspirations by the participants. The festival is named by the main attraction which is a symbolic burning of the wooden sculpture resembling a man which is done on a Saturday evening. Burning Man Project is a non-profit organization behind this festival and every year the number of participants gets higher.
3.   Oktoberfest
Oktoberfest is the largest and biggest beer festival in the world with over 6 million visitors in the recent years. This event that sells millions and millions of litres of beer to visitors all over the world, is held in Munich, Germany, from mid-September to the first week of October and last for up to 18 days. It has a long tradition dating from 1810 making it a pivotal point in Bavarian culture. In 2010, Oktoberfest celebrated its 200th anniversary with a museum tent specially prepared for the visitors showing the highlights and items from its two-centuries-long traditions.
4.   Marti Gras
Mardi Gras in New Orleans, USA is one of the carnival celebrations starting on the Epiphany to Ash Wednesday. It has strong roots in Anglican and Catholic nations and is celebrated other cities of the world. New Orleans being a traditional ethnic French city celebrates it since 1867 when it was a masked ball, but the sole Mardi Gras is considered to be thousands of years old dating back to the pagan rituals celebrating fertility and spring. Other popular Mardi Gras Carnivals are in Rio de Janeiro and Venice and they attract thousands of tourists every year from all over the world.
5.   Carnival in Rio
Rio de Janeiro in Brazil is an exotic and culturally intoxicating destination on its own, but it is the most famous of its Carnival held annually from last week of February to first one in March. As part of the Mardi Gras type festivals, it's one big party with Brazilian character. Namely, what makes this Carnival so attractive are colourful costumes, samba music and all presented in the giant parade in the city with everyone having fun, dancing and partying. Carnival is the most famous ones in the world and every year more than 50,000 visitors come to enjoy its festive and cheerful character.
6.   Dia de los Muertos
Dia de los Muertos or Day of the Dead is a Mexican festival celebrated on November 1 in Mexico and among the Mexican people living in another country, especially the USA.  It is a way of celebrating the deaths of ancestors, a tradition almost 3,000 years old and dating since the pre-Columbian era. The food is eaten by the living and also dedicated to the spirits of the dead family members. The festival is also popular for specific dolls representing the dead which the participants carry with them and myriad of colours of costumes and decorations.
7.   Glastonbury
One of the famous European festivals, Glastonbury may have started as the classical music recital in the beginning of the 20th century, but then influenced by the hippie movement in the '70s it became something more resembling today with kombi mobile bar and the Who as one of the performers. Now, it's the place to celebrate all the popular music with campsites for accommodations, big brands as sponsors and top performers. In 2004 the tickets sold within 24 hours, and statistics show that 2008 festival had cost around £22 million for the organization.
All in all
The world is full of interesting and fun festivals appropriate for any taste and interests. Therefore if you are looking to experience some cultural entertainment, maybe visiting some of these festivals would broaden your views and give you a moment to remember for the rest of your life.