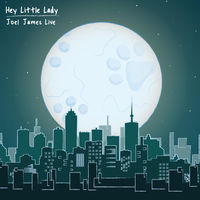 Joel James Live opts for a spellbinding theatrical performance on the powerful "Hey Little Lady". Featuring a symphonic scope the songs have a strong resonant emotional core. Vocals rise above the swirling luscious strings, as they have a poetic take on storytelling. Sweeping gestures grace the entirety of the collection for Joel James Live lets the entire sound gracefully ebb and flow. By opting for such a style the collection becomes truly all-consuming, as Joel James Live creates an entire aural universe.
Full of energy "Adorn Above" opens the collection on a high note, as the way the song builds itself into a frenzy feels invigorating. Quite intricate, Joel James Live incorporates a wide swath of instruments from wild careening guitars to a bombastic beat. Electro flourishes anchor the giddy rhythms of "Black Light" which at times flirts with dance music. Stripping things down to the essentials "Writing The Story" starts things off with a hushed reverence. Upon letting the tension slowly increase the song bursts forth in gorgeous color. Joel James Live shows off his impressive singing chops with the neon-hued workout of "White Night" where Joel James Live ensures that everything comes together in an amazing sea of sound. Ending the collection off with a dreamy tone is the soothing ambient bliss of "Find The Moon" where the delicate touch adds to the magical spirit of the piece.
https://www.joeljameslive.com/
With "Hey Little Lady" Joel James Live sculpts a sound that positively teems with life.
By Jeremy Finn