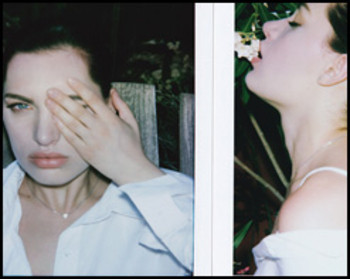 Pop artists have always loved the iconography of the seaside carnival. The carousel rides, the games of chance on the boardwalk, the popcorn and the flashing lights: it's all redolent of steam and sweet romance, the dizziness of youth, excitement, and maybe a little trouble, too. And the carnival means music, of course — not the safe stuff that you might get in the suburban towns farther inland, but the freshest music, turbulent music that picks you up and carries you along, music that breaks across a hot summer night like a great wave. Nya's "Let Go" is a song like that: one worthy of the shore and everything it suggests, and wholly appropriate for your next spin around the carousel. Just to let you know she knows, there she is in the "Let Go" clip, treat in her hand, singing in front of the red and white booths of a classic fairground strip.
Nya is barely out of her teens, but this isn't her first trip around the amusement park. Earlier this year, she delighted fans of adventurous R&B with the sultry "Round N Round." That recording won the New York City-based singer an audience eager to follow her next move — but it's hard to imagine any of her initial supporters would have imagined something as irresistible as "Let Go" so soon in her career. Produced by Brady Watt, who has worked with Talib Kweli, Styles P, and Joey Bada$$, "Let Go" is a song that any pop star would jump at a chance to sing. Watt has crafted a sleek, propulsive beat with jazzy electric piano chords, strategically placed chimes and finger snaps, and synthesizers as cool and sweet as a breeze off the ocean. Nya graces it with a subtly powerful vocal performance that demonstrates her flexibility and her training; she's a contemporary singer, for sure, but one with roots deep in American musical traditions who counts Sinatra as a significant influence on her music. Sure, you'll hear echoes of Amy Winehouse — but Ella Fitzgerald, too.
Her classicism extends to the video for "Let Go". She's matched her song of urgency and abandon with a setting that reinforces its romantic longing and that has always been associated with sexual awakening.. Nya's activities at the boardwalk are youthful: she hops in an air castle, aims at balloons on the wall to win her prize, and brandishes her cotton candy like a queen's scepter. But her concerns are altogether grown up. Between the poles of the carousel in motion, she flirts with the object of her affection. When she gives him a handful of darts to toss at the target, she may as well be handing him Cupid's arrow.