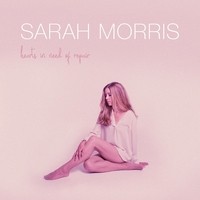 Sarah Morris sings with true heart and soul on the gentle folk journey of "Hearts In Need Of Repair". The loveliness of the entire album cannot be overstated – Sarah Morris knows exactly the right level of accompaniment her voice requires. Never overdone, she keeps the arrangements thoughtful, stylish, and with a true sense of style. Folk, chamber pop, with just a hint of country allow these pieces to teem with life. Her storytelling ability simply stuns while she lets the entire album to come together in a most fantastic way. Every piece offers yet another chapter in the greater narrative.
With nearly a mystical cyclical presence the title track "Hearts In Need Of A Little Repair" has a majestic quality, from the warmth of the strings to the far-off electric guitar. A little bit of a pick-up in tempo defines the rollicking slide guitar of "Good At Goodbye". Intimate to its very core "Helium" works wonders with its twee pop spirit. Stripping things down to the absolute essentials "Empty Seat" simply stuns with Sarah Morris doing particularly fine vocals. Evolving with such grace "Nothing Compares" has a sunny welcoming presence to it. Neatly bringing everything to a close "Confetti" goes for a perfect western twang whose dreamy quality feels so soothing.
"Hearts In Need Of Repairs" shows off the importance of patience, as Sarah Morris proves to have a deft ear for melody and an uncanny knack for crafting little vignettes from a life lived to the fullest.
http://www.sarahmorrismusic.com/
By Marybeth Swan