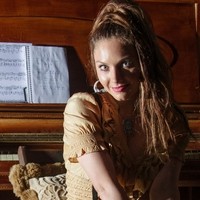 Sarah Ragdale offers a timeless narrative of the ups and downs of relationships with the spirited swing of "Whimsical Romance". Neatly drawing from ragtime, jazz pop, and the big band era everything feels perfectly balanced. Impassioned vocals tie all of this together, with Sarah Ragdale's fiery delivery working wonders. Arrangements possess an incredible level of energy while they rush through in a glorious stream. Quite colorful Sarah Ragdale incorporates a wide variety of melodic flourishes, clever buildups, and a wide array of instruments into the overall mix. By choosing such a unique path Sarah Ragdale creates an aural universe that feels impossible to properly pigeonhole.
A giddiness informs the triumphant opener "This Kiss" which nicely sets the tone for the album. Playful to its very core, "Next Time" chooses a swinging piano allowing for the whole thing to simply burst with excitement. Stripping things down to the essentials "Ferris Wheel" chooses a quieter, more intimate approach. Easily the highlight of the album comes with the infectious multifaceted world of "Locomotion". Building up into a doo-wop sort of style is the gorgeous "Butterfly". Featuring a dreamy hazy atmosphere, the joyful "Diamonds" glides through with the greatest of ease. Horns add to the stately happiness of "Wedding Day" where Sarah Ragdale goes for a lovely, caressing mood. On "Ragstime" Sarah Ragdale brings the entire album to a fantastic close.
https://www.facebook.com/mzrags/
"Whimsical Romance" shows off Sarah Ragdale's undeniable chops as she proves to be an enormously talented poetic storyteller.
By Tom Susman