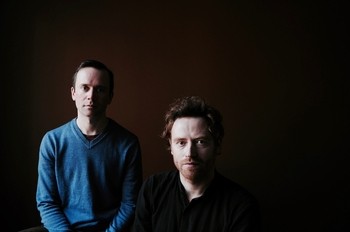 Vivid and emotionally charged, the 1945 novel By Grand Central Station I Sat Down and Wept explores author Elizabeth Smart's incendiary love affair with British poet George Barker. A book bought and burned by the author's mother, The Guardian describes By Grand Central Station I Sat Down and Wept as "like Madame Bovary blasted by lightning." Now, called into this universe of catastrophic love, Winnipeg duo Heavy Bell adapts this saga to sweeping choral forms.
Heavy Bell is Matt Peters, of tilt pop band Royal Canoe, and Tom Keenan, a regular on theatre stages across Canada. The two artists are active members of Winnipeg's vibrant arts scene – a world of organic cross-pollination between music, art, dance and theatre. Building on other award-winning literary adaptations, By Grand Central Station is Heavy Bell's debut album.
"In the winter of 2009, Tom and I sat by the piano with a copy of By Grand Central Station I Sat Down and Wept," says Peters. "It was unlike anything I had read. The intensity of her experience and the vivid, lyrical language made the songwriting feel somewhat inevitable." The lyrics are sourced primarily from the novel, either as full passages or impressionistic collages of moments stitched into verses. "The story is told through emotion rather than action: her inner world is enormous, tempestuous. It takes over the world around her and tosses her like a boat on the sea," Keenan adds.