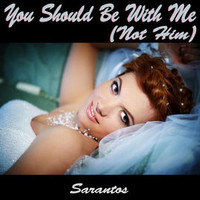 Sarantos sings straight from the heart on the passionate love ballad "You Should Be With Me (Not Him)". With a stripped-down, intimate approach Sarantos at times feels akin to be right there, watching his loved one from far away. The tenderness of his vocals depicts a mournful yearning, for a serious relationship with a special someone. Everything opts for a quiet, reflective spirit, one that further emphasizes the poetic lyricism. Jazz, pop, even a hint of classical comes into view as the arrangement manages to balance these impulses together with such grace and ease. By choosing such a meditative mood Sarantos allows for the song to evolve in a pastoral fashion, giving it a warm glow.
Elegant piano introduces the work with serious style and flair. Upon the establishment of the groove the way the bass has nearly an emotional element to it helps the track grow in unexpected ways. Layer upon layer comes into the mix giving it a soothing scope, helping to further underscore the story that quickly unfolds over the piece. Becoming ever more delicate, Sarantos never raises his voice always staying with a hushed reverence. Gradually the way the track grows becomes downright satisfying as the guitar work gives it an interesting, fiery core before the song simply fades out with the vocals remaining as they whisper one final time.
https://itunes.apple.com/us/album/you-should-be-with-me-not-him-single/id1297092438
With "You Should Be With Me (Not Him)" Sarantos offers a piece about understanding, about pining, that fully explores some of the sadness that can often define true love.
By BeachSloth