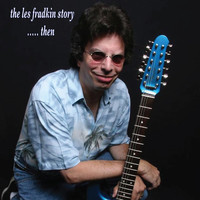 I'm no stranger to Les Fradkin as I have been lucky enough to work with this extraordinarily talented singer/songwriter/composer/producer on numerous occasions. Not to mention, Les is a masterful guitarist and MIDI guitar innovator taking the instruments and technology to a whole new stratosphere. So, it's safe to say I am a certified Les Fradkin fan with all of his groundbreaking work that simply satisfies my musical palette.
This is a special kind of a Review + for me because it's a close examination of Les Fradkin's most prized possessions (songs) over the last 45 years and a brilliant synopsis of his music career if you ask me. But the real kicker is that you're not just experiencing Fradkin's musical history here but you're also cherishing a stunning Artist Kit that would be an excellent addition to any home, office or studio. With three different donation levels, one will receive an array of goodies including a customized Award Plaque with your name on it. And the best part is that you're not just supporting Les Fradkin here but you're also supporting ALL music as an art form with honorable mention from Akademia Music. This may be a bit cheesy but this Collector's Set literally is the gift that keeps on giving and perfect timing with Christmas right around the corner! You can find out all about this wonderful collection right here: http://www.theakademia.com/artistkit/LesFradkin-BlackGypsy.html. And it's worth mentioning that the Diamond set includes all of the Les Fradkin memorabilia, USB Flash drive with ALL of the music (over 40 songs) plus videos, exclusive pictures and even rare and never before heard interviews with renowned DJ Archer Dusabalon. I even got to check out three high quality videos of Les Fradkin that offered genuinely intimate performances. You can SKOPE out the official music video for "Black Gypsy" right here: https://www.youtube.com/watch?time_continue=3&v=9n2aGIXPGeM. So, as you can see this is one unique and amazing product that anyone would be proud to own.
Now let's get down to business and get into the eclectic mix of songs on the albums. Starting with '…Then', this CD includes recordings that range from the 70s-90s. There is a short but sweet introduction from Les Fradkin himself thanking the fans with a kind & personal message. The first track is titled "Song Of A Thousand Voices" and fittingly enough it is Fradkin's biggest Hit and debut single which has popular versions in Spanish and French. This is an updated version produced by Les and Loretta Fradkin and the song title fits because the audio surrounds you from all directions with such a robust production in place. Next up is "You Can Cry If You Want To" that has such a pleasant melody and happens to be one of the first songs penned by Les Fradkin. Following along, "God Bless California" is a timeless classic and an anthem for Then, Now and Forever! There are many top-notch musicians on this cut and it's a sound that resonates and sticks to you with the driving beat and infectious lyrics. Cruising along I am hearing a perfectly orchestrated composition that offers plenty of heart, soul and sincerity on "Black Gypsy". It's no wonder that this song is a Top 10 Hit on 365 Radio Network because the track speaks to the listener with its many layers and Neil Diamond-like vocal stylings. Tone it down a bit.
with a more soothing and sensitive approach on "Sometimes A Girl Must Carry On" where Les is vocally in charge. Next up, Les is playing the role of ultimate wordsmith & tunesmith on "Why Is This Man Smiling?" as this melodious tune consumes you. The following track, "I Could Make It Last Forever" features all original members of the popular music group Left Banke and together they created magic here. This number is shining bright with such a plush texture and lively tone where Les Fradkin & Left Banke are performing like there is no tomorrow and bringin' it on home. "I Can Never Say Goodbye" is deeply personal as it was written during the running of the Broadway smash "Beatlemania" where Les had mixed emotions/feelings. Les Fradkin played the role of the great George Harrison then for the "Beatlemania" production and just as Harrison's voice hits you immediately Les has that same effect here singing like a glorious Champ. Les considers this recording to be one of his finest vocal performances and I will not argue with that as it was Heaven to my ears. "Down On My Luck" expresses this sentiment perfectly with all the highs, lows and in betweens charging at you. Taking from Bob Dylan here, Les put his storybook writing and poetic side to the test in what he considers to be one his very best and deepest lyrical pieces. The result is refreshingly vibrant offering the listener complexity that can be appreciated and understood. I can't help but sing along on "Everything Is Gonna Be Alright" sending off an optimistic vibe that is contagious. This number was written by Les and Barry David Butler back in 1973 and still holds true to today that "Everything Is Gonna Be Alright" as long as we have faith and hope. The final installment on the '…Then' set is an Instant Hit and such a fresh take on the original version of "God Bless California". This remake is more modern and has a Beach Boys theme in place which attracted to me right away being that they are one of my favorite bands. "God Bless California (Oooh L.A.)" is just a fun-in-the-sun tune that casts new sunshine on the original.
The '…Now!' set includes a generous batch of chart-friendly numbers from the 2000's. The first song "Jangleholic" is a biographical sketch of Fradkin's musical life that will have you dancing along to the beat. There is certainly a jingle-jangle in his musicbox mind here as this sounds like a Hit single to me or at least should be. On the next track, "Under The Covers", the listener will receive a driving sensation and just a BIG sound that moves along with finesse. Prepare to enjoy some cool, folk rock mixed with Pop that will have you swaying back & forth to this musically rich song called "Through The Looking Glass". I couldn't help but notice a bit of a Tom Petty & the Heartbreakers guitar style at times which further drew me in. Passionate words and vivid memories reveal themselves on "Magic Attic" where no tricks are needed other than allowing your mind to wander and "set sail". Get a good laugh on "25 Women, So Little Time" where Les calls out the ridiculousness of falling in love on Reality TV. This song is witty, relevant and proves that people are literally looking for love in all the wrong places these days. Next up is "Here Today, Gone Tomorrow" that I feel is one of Les Fradkin's most diverse songs on this set due to the mix of elements and musical variations. This track is just a vast space of audio ticking along one click at a time and then suddenly over in the blink of an eye. Flowing along, "Everything Is Wrong" offers a cool, symphonic rock style mixed with socially-conscious
lyrics. With lines like: "Everything is wrong, nothing's really right. Can we ever win in a fixed game fight?" as well as "Something's gotta change before the whole thing blows!" is a wake up call to Middle class Americans to stop Corporate America before it's too late. The message to stand up and fight is heard loud and clear, which proves to be quite motivational and inspirational. Moving along, we have another song that speaks to the masses on "Obsolete" where such issues as unemployment and the destruction of the middle class are touched on. Due to the nature of the material, one would guess right that the feeling is melancholy with a sense of despair sinking in which is why it was such a painfully hard song for Les to write. On the track "Rehearsals for Retirement", the question that keeps popping up for me is "Who's gonna take care of me?" as I think long and hard about my next moves in life. This is a real thinker's song that truly hit me and had me contemplating the future. Brace yourself for "System Crash" as the alarm goes off and instead of lazily hitting Snooze you should push and reach for Change instead. Les stresses that there is a system failure and that the hard drive should be upgraded to a better life that is more pure & clean. Everyone will be chanting this next one and joining in on "Together (Radio Edit)". This is a song that needs to be spread & heard worldwide because WE can make it happen and prove that "We'll all be ONE one day". Together WE can win and Together WE can lose but as long as we're united as ONE, we hold the power and the key toward peace & prosperity ONE day. Ending on a happy, jolly note with "Christmas Vacation" where Les is adding a little Caribbean flavor making this one, breezy cool Christmas jam. Finally, prepare for an Instant Christmas classic with "Say You Love Me For Christmas" that gets me in the holiday spirit with a little ELO and Phil Spector influence to boot. "Say You Love Me For Christmas" is so darn catchy and will certainly be played over the Christmas season at our house!
So as you can see the music speaks for itself with professionally mastered recordings that Les Fradkin carefully constructed during the span of his entire music career. Along with the fantastic material written by Les, one will also get an entire Kit that represents Les Fradkin and his brand to the fullest. And you'll be helping in the fight toward keeping music alive and well in our society by purchasing one of these stellar packages. So Rise Up and proudly express yourself by saying you stand with Les Fradkin and the creative process known as music. Support this artist all you can because in the end music is life and life is music. Remember, you can choose from three different Artist Kits right here: http://www.theakademia.com/artistkit/LesFradkin-BlackGypsy.html; you won't regret it!
http://www.reverbnation.com/lesfradkin
https://www.facebook.com/lfradkin
http://www.youtube.com/user/lfradkin
(+)