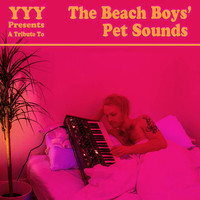 YYY's "A Tribute To The Beach Boys' Pet Sounds" opts for an origami-style approach to the work, one that embraces the sunny disposition of the originals. Everything works, from the glo-fi aesthetic that appears throughout the album to the passionate vocals that rise above it all. Rhythms go for a loose approach ensuring that the songs retain a bit of unpredictability while they reimagine the simple yet tender melodies. An updated wall of sound technique works wonders for the album allowing it a playful spirit that radiates with warmth and humanity.
STREAM LINK:https://therealyyy.bandcamp.com
Things start in earnest with deM atlaS's "Wouldn't It Be Nice". Elastic and jubilant, the electronic swirls of City Counselor's "You Still Believe In Me" serves as one of the highlights of the album, letting the fragile yet physicality of the synthesizer add to the overall infectious nature of the track. Elle PF creates a gorgeous dream world on the meditative ambience of "Don't Talk" where they delve into a soulful atmosphere. Woozy with its handclaps and nostalgia is the tribute to the mysterious instrumental of "Let's Go Away For Awhile". Physicality reigns supreme on the triumphant "Here Today (feat. P.O.S)". Layer upon layer are applied with the greatest of ease thanks to Devata Daun's "I Just Wasn't Made For These Times". Slight flourishes and attention to detail helps Jenessa LaSota's Ladytron-inspired "Caroline No". Nicely closing the album on a high note is the Fort Wilson Riot's hyperactive "Good Vibrations".
"A Tribute To the Beach Boys' Pet Sounds" chooses a colorful, multifaceted tact, one that celebrates pop's history while pointing towards its future.
By Ben Jameson