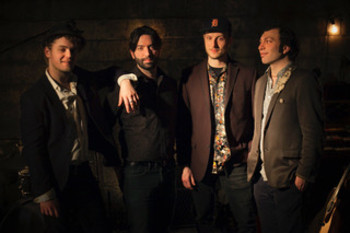 New York City based band Mama Juke, comprised of Amos Rose (electric guitars, lead vocals, background vocals), Eli Bridges (acoustic guitars, harmonica, background vocals, perc.), Pete O'Neill – (bass, background vocals), and Jon Wert – (drums, perc.), have taken residency at the East Village Social, a St. Marks music hub in the heart of East Village since September of 2015. During their time there they have maintained their craft, building upon it as they went on to record a live album not at East Village but at Unit J, where this release would see fitting to be their debut full-length album. With that, Mama Juke's style of country folk rock, take at hand their live album, with pride, as their music see's no bounds. The band getting into discussion about their residency, the live album, with everything else in-between of course!
NP: While your band name is Mama Juke, have you ever be mistaken for Mama June of Honey Boo Boo fame? Your names are slightly similar.
That's funny, we've been confused for a lot of things, but not sure about Mama June! The most common misnomer we get is Mama Dukes. We prefer the comparison to Marmaduke.
NP: Why did you end up with the name Mama Juke, what does it mean, does it relate to someone's mama?
The true origins are shrouded in mystery, but they have to do with a fictional character created by Eli and friend Johnny O'Shea about a sassy fugitive outlaw, Mama Buick. We actually started out as Mama Buick but felt that that name may run up against copywriter issues. The "Juke" part of the name has to do with the variety of music we have for your request, like a Jukebox.
NP: What type of music do you create?
American music of all shapes and sizes. We draw from a wide range of influences but the songs tend to reflect a folk songwriter approach with a lot of rock, bluegrass and country flavors.
NP: What are your songs about and how would you describe your writing style?
Most songs are inspired by personal life events and what it's like to be a struggling artist in the city. Some songs come from one writer in the band (usually Amos or Eli) but all the arrangements come about through collaboration with the whole band.
NP: Which acts do you take influences or inspiration from the most and the least?
Most from Kermit the Frog and least from Cannibal Corpse.
NP: You have been holding a residency at the East Village Social since September 2015, does it never get boring playing the same hot spot time and time again?
No, it's never boring. There's definitely an ebb and flow in crowd seasonally and on a weekly basis. But there's a great community there, a lot of people always stop in off the street because they hear the music and that's one of the things that inspire us to keep going. Each show is different with plenty of guest musicians stopping by and we try to add new songs every week. We play after their Trivia Night ends, which is always really fun too.
NP: Why did you want to do a weekly residency at the East Village Social as opposed to many other music venues out there?
It's a great venue in the tradition of the East Village art/music scene. Always crazy characters, party-going locals and tourists. And they let us run the show the way we want. Plus they're blackmailing us.
NP: If you had to pick another spot to hold a residency where would you pick and why?
There are too many great places to pick just one. We're always looking for new great rooms and crowds to play for, $$$$$$$$ is why. And when we have more of that, we can do more writing and recording and rehearsing
NP: Your debut efforts came in the form of a live album titled "Mama Juke Live At Unit J", why go this direction with your first album release?
In the 2 years we've been together, we've played hundreds of shows for all types of crowds, and it's the best part of being a musician. Our philosophy, particularly through our collaborations, has been to try to feel included; like they are a part of the show. That's the essence of the band in a lot of ways, and we wanted to capture that energy and identity. That's also exactly what happens all the time at our home venue, Unit J, so the album really is meant to encapsulate what it's like to come and hang out at a party in our Bushwick loft venue, a slice of life.
NP: Will there be an official album release with non-live material later on down the line?
Yes! No specifics yet, but there are a number of studio recordings in the can with more to come. Look for our first studio album to be released in the late winter/spring.
NP: Why did you want this particular showcase at the Unit J complex to be used as a live release, was this your band's first ever show?
No, as stated above this is our home base, a collective or musicians, filmmakers, photographers and actors who've been collaborating for over 4 years now. We've had the pleasure of playing there many times, and look forward to our next Halloween show there on Oct. 28th! (shameless plug)
NP: What do you hope people to receive from listening to this live album as opposed to non-live album release?
What it's like to be at a house party with Mama Juke.
NP: What is it about your live show, that can be taken away from it, why should people go and see Mama Juke?
Positive energy, heart-felt tunes, a fun time. Really cool bass solos.
NP: How about the plans for the remainder of this year, have anything lined-up?
As stated before, we've got a big show coming up at Unit J on Oct. 28th, a Halloween extravaganza with many other talented acts performing. Other than that there are plenty of shows around town and upstate coming up the rest of the year, check our schedule at www.mamajukemusic.com for more details about future shows. We will also be wrapping up our next studio album and looking to return to SXSW and the Midwest in the immediate future, and then back to France next summer.
NP: Anything else you would like to add or say?
Shout outs to Kosi Harris for all her help with Mama Juke and everyone at Unit J! And thank you for the interview. Come hang out with us for our album premier show at Rockwood Stage 2, 11:30pm on 10/20!
https://www.facebook.com/MAMABEMUSIC
By: Natalie Perez