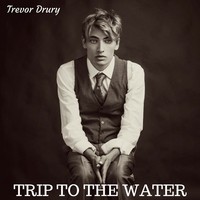 San Diego, California based Trevor Drury has experienced considerable success in a couple of different worlds. The environment of the international modeling and musical worlds might seem, at first impression, to be distinctly different spheres, but there are similarities undoubtedly influencing Drury's approach to both forms. His latest single "Trip to the Water" makes it clear that he's a natural entertainer with a tangible presence, even on recording, that enriches the natural strengths of the songwriting. Make no mistake; Drury is far from just a pretty face. His singer/songwriter aesthetic is strong on this performance and the substance he achieves makes the stylishness all that much more of a satisfying vehicle for conveying his message and thoughts. His 2016 debut is the result of a musical education that began at eight years old and continues today with the release of this dynamic and powerful new composition.
URL: www.officialtrevordrury.com
It begins in the starkest possible way. Piano and Drury's unvarnished voice make for an excellent introductory pairing but it is inevitable that more will come into play. The stately pace of the song is anchored around straight forward and steady drumming, but the piano playing responds in kind by evolving from its lyrical beginning into a more percussive style. There's some broad brushstrokes from synthesizer adding further color to the songwriting, but Drury embraces some fundamental strengths that sustain the song much better than any of those kind of adornments. The core of the performance, its burning heart, is the union of Drury's voice with the beautifully sympathetic piano work. It has an evolving, flexible mood that gives the song considerable drama and Drury's voice stays with it every step of the way. His attentiveness helps makes this all the more memorable.
The lyrical content accentuates the quasi-spiritual mood of the song. Drury's writing is evocative without ever grounding itself in such specificity that the listener can't engage imaginatively with his words. The title and central image of the song reinforces the spiritual inclinations driving the song and some generous, never overwrought, touches of backing vocals underscore the suggestion of the ethereal. There's impressive depth in the writing and performance considering Drury's age and it marks him as one of those rare, near prodigy performers for whom this sort of self expression seems to spring full born from their forehead like someone from Greek myth. There's not a single forced moment in this song and it serves as another important building block in a career that, increasingly, seems destined to have the staying power that few others ever enjoy. Trevor Drury's "Trip to the Water" is inspiring, musically entertaining, and comes across as a considered personal statement designed to resonate with listeners. It's an unqualified success and has a first class polish that's difficult to forget and impossible to ignore.
INSTAGRAM: https://www.instagram.com/inspiredmusicbytrevordrury/
Daniel Boyer