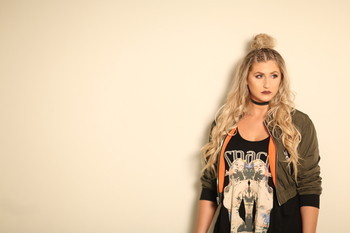 It's never been easier to form a social media dream team online. We'll be talking about Instagram in specific, but the principles carry over to any platform, really. To find out a bit more about the process that one artist has used, Eva, who has charted Billboard's top ten and collaborated with artists such as Gucci Mane, Snoop and Lupe, we sat down with her to dig a bit deeper. As Eva puts it, "It's all about using your art to give a gift to someone you admire."
Helping others succeed with the inspiration of your own art is the number one principle to abide by. It is, perhaps, the only essential ingredient to organic collaboration: To be willing to share your art as something you'd like to offer. The next step is to find specific artists or any other person or company that you'd like to work with. Eva offers her input, "I would say to find other accounts that you aspire to be like. Pick out a few people that inspire you and find a way to add value to their profile, not so much how you might benefit, but how you can add value without even thinking about what you'll get in return. You work together in a way that benefits you both. So, I think it helps to be clear about what you have to offer, and who it is you admire before all else. You can write a song for someone you'd like to work with, you can offer to include them in some of your press. If you're a painter you can paint them a picture!
You might be wondering, where do I start? How do I even find potential collaborations? Well, one way to find your potential dream team is by scrolling through hashtags that you'd most like to trend in. When you look at a hashtag, you'll notice that there are the top posts, and then the rest of the posts below that are updated in real-time. The goal is to get up there in that top section and trend in that hashtag.
Again, it's really a matter of who you admire. Any collaboration can be beneficial if you admire the person or company you're working with. So, if you're a poet but admire a comedian, you can write a poem about them, take a picture of it and tag them in the post of the poem. It's a gesture, a sign of respect. The same goes for other collabs… if you're a musician but admire a health food store in Chicago… put a jingle together for them and perhaps you'll be featured in one of their upcoming commercials!
Of course if you're an artist, it's important to take the time to find other artists that you find interesting and that you enjoy, but make sure you truly digest their art before reaching out. It's not as fruitful to find one picture, not even finish reading the caption and send them a message about how amazing they are… We can all read through that, it's transparent. And again, you don't always have to collaborate with other artists if you yourself are an artist. Another example is you can offer your latest single to a fitness model that is seeking a new playlist for her latest 'booty workout'. We see this all the time, but many of us don't ever realize how truly important (and easy) it is to build up your fan base this way, especially in today's sharing economy.
Eva advises that you should "Never ask for anything on a first date. Get to know the people you'd like to develop business relationships with before asking for anything. And always read between the lines – sometimes the most important things to notice are the things that aren't said."
There are plenty of hacks to keep you organized on your quest to find great collabs… For instance, you can add some specific posts from a particular handle that has captured your attention and index them to your 'favorites' to send them a shout out later… Or you can of course reach out immediately and begin to brainstorm some ideas that might cross pollinate well with each other's audience.
And remember, even if you LOVE someone's profile, it's not always the right fit. And that's okay. The point is, if you continuously make it a point to reach out to other artists with the sole purpose of offering yourself and your art in a fashion that might benefit the recipients' life, if you make it clear that you'd like to somehow align yourself with them…
Well, as the saying goes… If you holler, they will come.
Some Words of Wisdom from Eva