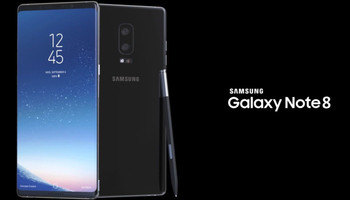 After a terrible ending to its Note 7, Samsung has decided to comeback with an impressive phone to win back the public once again. Right off the bat, this phone deserves applause for having some of the best features: a gorgeous screen display, great performance, best cameras, and stylish body.
But it cannot be regarded as a perfect phone. Still, props for Samsung for coming out with this great mobile phone. Hopefully, it will make the recent events all water under the bridge.
Pros: Stunning display, powerful cameras, faster RAM
The Samsung Galaxy Note 8 has an impressive 6.3 inch super AMOLED display, which gives users a rich experience navigating the phone. Its screen boasts a wide range of colors and gives off brightness that is hard to beat. Reading e-books, jotting down notes, watching shows, and playing games are done with ease.
Aside from the AMOLED display, the Note 8 also has a dual-curved edge and almost bezel-less front properly termed as the Infinity Display. This ensures that no space in the front is wasted and that users can maximize the screen resolution and size.
The physical home button is also gone giving the phone an 83% screen-to-body ratio. Pairing seamlessly with a rich display are Note's two powerful cameras. The dual rear cameras both have 12MP and optical image stabilization. One camera takes care of the wide-angle while another is for telephoto pictures and portrait photos. The cameras can also rival that of the iPhones with their capability to blur backgrounds and add bokeh with its "Live Focus" mode. Together, these cameras make the Galaxy Note 8 a pretty strong camera phone.
The Galaxy Note 8 has a 64GB memory which you can expand up to 256GB with a microSD card. You would want to install a lot of apps in the phone and you need not worry about any performance issues. The phone has a new 6GB RAM which ensures that even with many apps on, your phone will not freeze or slow down.
The Galaxy Note 8 is also powered by the latest Qualcomm Snapdragon 835 chipset which makes it the fastest Samsung phone to date.
Cons: Battery life, too big for pockets, annoying finger scanner placement
Even though the Note 8 has impressive screen resolution, the phone is bigger and heavier than the previous models. It stands 9mm taller than its predecessor and weights 195 g. Therefore, putting it in your jeans or jacket pockets is not an ideal and comfortable situation. Also, you better get a durable case and insurance because getting this Samsung Galaxy phone repaired will cost you an arm and a leg.
Another uncomfortable situation that you might get yourself into is when you use the rear finger scanner. Even though there are other options available like the iris scanner and facial recognition technology, the finger scanner should come handy especially when you're in a rush to actually wait for the phone to recognize your facial features. However, the finger scanner is still not a saving grace. Many users have complained about the placement of the finger scanner in previous models but Samsung did not listen. In the Note 8, the finger scanner is still located in an inconvenient location – too close to the dual cameras that one can end up touching it instead of the scanner.
Taking a cue from the mistake it committed prior, Samsung had gone to great lengths to try and test out the battery before it gave the go signal. Although the battery in the Note 8 is smaller, the 3,300mAh battery will keep worries at bay. However, due to Samsung leaning over to the safe side, do not expect heavy duty performance from its battery. Samsung tried to make up for this flaw but having a fast charger, which will hopefully save the users of the hassle.