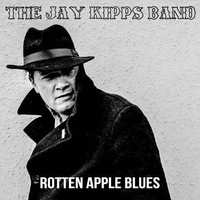 The Jay Kipps Band go for a tried and true gritty style on the swagger of "Rotten Apple Blues". With a raw visceral approach the Jay Kipps Band goes for a nearly physical style. From the passionately played harmonica to the jagged guitar riffs, everything feels truly lived in giving the track an honest spirit. Stylistically they draw from a wide variety of genres, from classic rock to Americana with the blues helping to anchor all of it. Featuring a toe-tapping rhythm courtesy of the light percussion the piece feels so intimate in a way. By far the true soul comes from the simultaneously humorous and downcast lyricism that adorns the entirety of the song. Easily the highlight, the way the vocals deliver their story feels vital.
Jumping right into it, the groove takes hold very quickly. Setting the tone for the rest of the piece the song has a spacious quality to it. By the time the vocals enter into the mix everything truly begins as the jagged guitar serves almost as punctuation to the tragic narrative that begins to unfold. Gradually the guitar starts to truly pick up, becoming ever more incensed as the whole realization of all the failings a city can bring. For city life is a brutal one, and can be for the people who live there. Thankfully the Jay Kipps Band injects this message with a bit of playfulness, leading to a quite addictive take.
With "Rotten Apple Blues" the Jay Kipps Band sculpts a catchy world, one that lingers in the mind.
https://www.facebook.com/JayKippsBand/
By Vince Schmidt