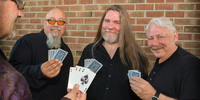 Jazz and funk meet up with the blues and R&B, with some Reggae tossed in on – Ace – by the Johnny Mac Band. They feature Johnny Mac a veteran of the New York circuit. Singing guitars and fiery solos bookend soulful voices supported by the rock-solid rhythm section of Joe Roberts on keyboards, Dave Ice on bass, and Raymond Hauck on drums.
The band also features the vocal styles and guitar work of Mohair Sam Wylie, a 79, year-old blues-man from Badin, North Carolina. The subtle influence of BB King, Ray Charles and others inform the band's original music which is distinctly their own.
URL: https://johnnymacband.com/
"Makin' Changes" leads it off with a bang as one several tracks to describe some of the brilliance of. The honky-tonk piano rolls off the fingers and you just know it's going to be good. It's about turning your life around, and making the changes that comes with it.
The female backing vocals are great and that piano never stops. "Om Badi" with its campy reggae and "Soul Angel" with its serious jazz inflections, follow with the right moves to knock out a trio of remarkably good tracks with tasty guitar lines and a hypnotic groove holding it down. It's not just blues, there's a little respect to everything.
"Part Time Man" somehow manages to even top them with a track that any blues lover would turn an ear to. It's where things to get straightforward, but so what. I really like this track, as well as some others I'll get to. But the way everyone plays on this is as good as it gets. It's a throwback without beyond a throwback, because it's fresh, but old fashioned.
It proves Johnny Mac to be a true bluesman who's not restricted to the same old clichés the genre which tend to bore musically wider audiences. There is nothing boring about it, and everything classy and fun-loving, even when he shouts.
"Didn't Want To Text" is a shuffle with a lot of humor for a break in all the seriousness. But this is where some of the shouting could be tones down a little. It's just one of the less inspiring tracks, but still a lot of fun, albeit slightly undermixed, but as an organ track it's still a worthy addition. Especially with the tone he brings to the guitar parts, including the blazing lead solo.
They answer back strongly with the snapping bass of the title track "Ace" with its much better sound mix. Now this is more like it, with the organ, guitar, lead and background vocals all firing it up with a blues-rocker to practically die for.
If you like it slower, then "Waiting" should do the business too, with its country side of the blues and a female vocal duet making it an easy favorite. And one that goes very well with that is "Sugar Girl" which takes it up just a notch after an already fabulous outing. They get just the right balance between them to seal the deal.
It's all good wherever you look, with "Give Me Some Of Your Loving," "5 Reasons To Leave" and "Groove Machine" also worth partaking in the precise delivery of. It all earns top marks from critics who've made a fair amount of noise about it lately. Pick it up and see, or miss out on a good thing.
Mike Tabor