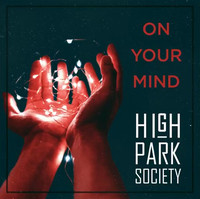 "On Your Mind", the new single by High Park Society, an independent studio project with music done by the mastermind of Canadian multi-instrumentalist and songwriter as well as acoustician Frank Babic. Another "one-man-does-all" type project. His indie pop style really brings it all together with such hooks, vocals, and music.
High Park Society's evoking music takes over that nostalgia that has been making a buzz for some time, as he brings it in with new wave styling of jazz, mixed in with the 80's to 90's era of the melodic kind of the alternative rock and pop feel. Taking all that together with this indie pop enthusiast, and you get High Park Society's "On Your Mind"; a song about trying to understand the one you love and care about, even when a times it becomes difficult and decisions have to be mades. That is what this track brings forth within its music waves of melodies and rhythms.
This song plays itself out with lots of melodies, rhythms, and beats going on throughout it. It has an upbeat tempo that keeps on pulsing. It just becomes so catchy and upbeat that you find yourself really getting into the groove of it all. Lyrically you get the picture of that, as you find yourself asking: what are we thinking? what is really on our mind? what do we really think about this person? This is something we can all relate to at one time or another, as it builds in creativity, thinking of others, wondering what makes them tick and how they think, and what really goings on in their minds. Truly a thinking type of track is what is happening here with High Park Society.
The song does have an accompanying quasi-lyrical video to go with it, as it takes only certain words putting them here and there throughout. The video is focused upon a paper hat shaped boat, as it travels the water, as the song and video plays out, and depicts other relevant happenings to the song. It is just one of those awkward moment-type of things, that you just basically go with the flow in these tough personal times.
The lyrics and song structure itself are well played out. It has energy, upbeat tones, with crafty momentum thrown in to keep it together. It really makes this track work so well. High Park Society as a project done by Frank Babic is one that is a lot like other singles by them. While this being a one man act, his styling does bring the past to life in the present, as he did take that trip of nostalgia seriously.
His work is influenced with a sound mixed between The Cure crossed with The Beatles, except more energy driven and not so much dark but more open minded with the melodies. This allows the melodies to expand their tone of beats, that it makes it more embracing and welcoming. It becomes more and more upbeat as the song goes in terms of listening it over again and again. That also being a thing as the song does not become boring but more fun with each listen through.
All in all, High Park Society's "On Your Mind" is a track of question, that will be on your mind for quite some time. If not that then perhaps you should get it on that mind, because it is worth a listen or two, if not more so than that, for that matter.
https://www.facebook.com/highparksociety/
By: Natalie Perez