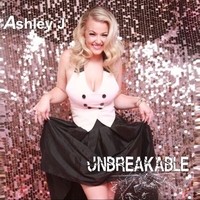 Singer-Songwriter Ashley J is a hot up and comer based out of the East Coast as well and is definitely worth mentioning. She's also a true musical free spirit! All this can be felt on every aspect of her music.
Speaking of which, her music is steeped in a multidimensional fusion of modern and 90s dance-filled pop in the spirit of heavyweight forebears such as Paula Abdul, Hillary Duff, Rachel Platten, early Selena Gomez and Demi Lovato. Her latest song "Unbreakable" embraces the rich heritage of all of the above styles, while holding her own within his deep and versatile voice and relatable writing style. All of this and more tie the song together nicely, even as the music skips around and delves into known territory. The single is also highly empowering, uplifting and equally as impressive with flamboyant vocal flair from Ashley J that, along with her producer, manage to create a song that will change your dark, bad days for a very good one.
After listening to "Unbreakable" by Ashley J it's evident that she's very talented. As I mentioned before, even though sometimes it falls into the cliché, she has a powerful writing style and voice and look that many people will gravitate towards. She also captures that tropical sound with the pop realm. Ashley J proves she is a musical force to be reckoned with up that way. It's nice to see an artist from Orlando move up and continuously grow. In the end, you are left with the desire of wanting to hear and get to know more of this artist.
Thomas Arnold