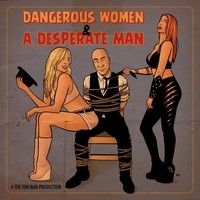 Americana how art though not what it used to be….. times of the past or good old days are long gone in today's senses. As no one buys or believes in a time that once was then which is not here now. In the case of Americana roots rock and blues act Ten Ton Man with his EP "Dangerous Women & A Desperate Man", he likes to think otherwise.
Indeed so, this 3-track release that takes the title of "Dangerous Women & A Desperate Man", takes on a genre he calls roots rock, a style of rock music that takes material from numerous American traditions such as country, blues, and folk music. Its namesake has been used in a more broader sense that takes in other genres aside from those listed prior, including earlier rock n' roll, country rock, and other forms of the "rock" genre. Simply put it is rock music to its finest content really. The title track for one, has been one kicker to the teeth, receiving quite a bit of coverage and play time, with it's over the top alleged encounter material involving that of a dominatrix. So the material is shall we call it, dirty yet sexified, if that makes any case for you to adjust. It's a track of the modern age rock music, very laid back, easy listening and going type of style of approach. It has a sense that makes you kick back, tapping your foot to the beat of rhythm pulsating outward. While the rest of your body just grooves right along to it all.
The next track on the listing is one titled "Once", a track named after yourself somewhat in this case, is rather classy, as for the song itself, it is more heavy hitting than you would think it to be. As it is really about the delivery of its source material, the material involved dealing with love, lost, and lust, as the person in question details about feeling loss and pain, with a bit of love thrown in-between. It's a mix match of material really, but the quality of it all, makes the music stand out like no other. It takes a similar styling to the previous track, but more developed and slightly heavier in tone. In short, it is one track that is a heavy hitter but a good listen.
"Mary", is the last of the tracks off this EP release that is "Dangerous Women & A Desperate Man". It really taking up things a couple of notches, as the music is infused with such angst of energy, that it creates itself. It's lyrical content revolving around a women named Mary of course, as she goes into tricking the male in question, by the looks of it. It is really hard to pin point it really, but it is still a fun tossing track of material. Lots of energy going for it that it makes you smile with ease.
All in all Ten Ton Man takes a venture into the romance with it going well then not so well as expected. Lots of ups and downs with tons of energy throughout it, this EP is just filled to the brim of aggressive musical arrangements, that will amuse, confuse, and delight you.
By: Natalie Perez – natalieannnperez@gmail.com