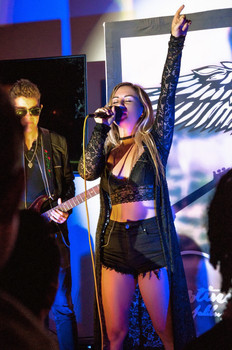 Malibu is well known for it's rich and famous, beautiful beaches and beautiful people. This town full of celebrities is what Destiny Malibu calls home. A glimpse into her life, reveals that she graduated from Malibu High School with classmates such as supermodel Gigi Hadid. Destiny thrived in this environment and was even voted "Most Musical" by her graduating class. True to form, Destiny has been nonstop with her music and just released her "Kissed by An Angel EP" which she debuted at her EP Release party, August 19th at Casa Escobar in Malibu.
Before continuing with our interview with Destiny Malibu about her EP Release Party, there is more about Destiny's musical journey, I want to share with you. For example, Destiny made her first television appearance on the network Univision at the age of 5, for a tribute song for the 911 incident. She went on to write 5 songs before turning 12 heard across 23 radio stations. She entered and won many songwriting contests leading to her sophomore win, that prized her with a visit to Remote Control Studios, home of Multi-Grammy Award winner, Hans Zimmer. Before graduating from high school at 17 years of age, Destiny was signed as a songwriter to Burnett Music Group, by the son of Mark Burnett, producer of such shows as "The Voice" and "Shark Tank".
In addition, Destiny has written over 125 songs in various genres, including the song "Sweet Dreams" which premiered on TLC's "Answered Prayers" series, hosted by award winning actress and producer Roma Downey. Another track by her called "Love Hurts" was nominated for Independent Pop Song of 2016 by the Hollywood Music in Media Awards and was featured in China. And yet another song written by Destiny titled "I Feel Alive" was also nominated for Music Video of the Year per The Hollywood Reporter!
Lately, Destiny has been touring across 8 U.S. states to date, singing from the rooftop stage of her 40ft tour bus at many locations. She has also performed at legendary venues such as the House Of Blues, Viper Room, Brick By Brick, the Canyon Club, Texas' Rockfest, the Gorilla Fest, the Florida Music Festival and at high schools and colleges such as in Tennessee, to audiences of all ages.
Get to know Destiny Malibu and her music, music videos, lyric videos and vlogs, on Youtube. You can also listen on Spotify, Soundcloud, Applemusic, Iheartradio, Deezer, Tidal, Itunes, ReverbNation and her website: DestinyMalibu.com.
And for the latest daily updates, connect with Destiny Malibu on Instagram, Snapchat, Facebook, and Twitter. She responds to her #angels daily and enjoys posting song requests regularly on her Instagram.
Back to more about Destiny Malibu's Kissed by An Angel EP release party. It was held in Malibu, California on Saturday August 19, 2017 and it was an exclusive, red carpet event, by guest list only and was held at the iconic Casa Escobar venue, known for decades of legendary performers. Malibu locals, industry executives, celebrities, fans, family, and friends alike, were all in attendance. Destiny was accompanied on stage by musicians Michael Snoddy on drums and Michael Leeese on guitar. Destiny stepped on stage close to 9pm. She opened with a heart-stopping beautiful Acapella original, in honor of tragedies going on around the world, followed by "I want you back" by Jackson 5. Her performance on stage was spectacular from beginning to end and included another iconic song, "Can't Help Falling in Love" by Elvis. This up and coming Artist is called "the new Drake" by many of her fans for her melodic raps but was also called "the new Mariah Carey" at the release party for her astounding vocal range. Destiny's EP Release Party lasted well past 2am and "It was everything I could have dreamed of " says, Destiny Malibu.
Following the EP Release, Destiny has received many invitations to perform and collaborate on new projects. She has previously performed on Fox 5 San Diego, been featured on TLC, the Hollywood Reporter, KFI AM 640 and I Heart Radio. She was named a Top 25 Break Out Artist by Shutter 16 Magazine and ranks at the top on the ReverbNation pop charts as of September 01, 2017 at #1 on Local, #3 Regional, #4 National and #5 Global.
Currently on her "Kissed By An Angel Tour" she performs from the rooftop stage of her 40 foot tour bus promoting her EP "Kissed By An Angel". She counts with over 100,000 plus fans or angels as she calls them and you can see her next at the You Bloom LA 2017 Music Festival, September 23, 2017 in Los Angeles, she will be in Boston, MA in October and back in Malibu to perform at the "AWalkonWater" Event on November 17th or check her calendar for a stop near you.
When asked about her debut EP Release and how being an artist has impacted her life, and what makes it all worth it, Destiny goes into great detail:
NP: "Kissed By An Angel" EP received an EP release party, disclose what festivities took place, what was worn, what happened, what was accomplished by tossing together such a bash for such a debut of efforts?
My EP Release Party was a huge dream come true! It was held at Casa Escobar, which has hosted legendary musicians for decades. Facing the beautiful Pacific Ocean and Malibu Pier, we arrived in my tour bus early in the summer morning at 9am for Sound check and Setup. I savored every moment leading to the Red Carpet. We had to move venues in the last few days, due to concerns that our previous venue could not accommodate the amount of guests we expected. And sure enough, by the time, we stepped out of my tour bus, the parking lot was completely full to capacity. It warmed my heart as I saw recognizable faces step out of their vehicles for Valet Parking dressed to impress and ready to have a great time!
I had three outfits to choose from, finally deciding to go with an all-black outfit which I love. A lace bralette, black shorts with cutouts, black boots, and a long black lace top to finish the look.
My two musicians Michael Snoddy on drums and Michael Leese, on guitar and I walked the length of the parking lot to the side entrance of the venue where we were greeted by photographers and videographers that lined the Red Carpet.
If I may take a moment, I want to thank so many people that joined us for the party. You all know who you are! Allow me to mention Ellen K, radio host on KOST 103.5 fm. "Ellen thank you for your phone call, for your warm words. I was so happy to hear you and your family would join us for the evening! You are amazing!" A special thanks to Dr. Talia Emery with Remedy Skin, Peter and Diane Van Tilborg with 2 Wrap and Cathy Escobar, owner of Casa Escobar who's support and love helped make the event possible. I also want to say it was a huge honor to have Hall of Fame Musician Howard Leese join us for the evening and having his son Michael play with me on stage! A special thanks to Tova Malibu; Jewelry Designer, Ruth Collins; Producer, Tye Odle; Sports/Entertainment Agent, Elizabeth Espinosa with KFI AM 640 who interviewed me and announced my EP Release on her Sunday morning show. Thank you Jay Ortiz with TMZ, and thank you Gigi Hadid for your DM message. <3 <3 Thanks to my friends and family and everyone for making it such an incredible evening!
It was the best feeling ever to finally perform my Debut EP after almost a year in the making. And for all of my songs to be received with such a great response made me cry with joy!
Natalie, I also want to let you know that after the EP Release, we have received many offers, collaboration requests and performance invitations. I am signing a few deals this very week and I am looking forward to what lies ahead with this "Kissed by An Angel EP". By the way, I also debuted lyrical videos for my EP during the release party, and they are all available to watch, back to back on my YouTube channel's playlist:
https://www.youtube.com/playlist?list=PLg1yQueS-dsXmtIwFm3vH6VhgP70i9wTj
NP: Would you say that this EP is a timeless piece of work and effort on your part?
I poured my heart and soul into this EP and I do humbly pray that it will someday be considered a timeless contribution to music. Combining Pop, EDM, R&B and Melodic Rap as a female, into one collection was a challenging and rewarding experience. I can confidently say that this EP is my most authentic and honest release to date. It really represents who I am as an artist and my spirit at the core. I worked really hard to create a "feel good" collection that was relatable, emotional, fun, original, complex, positive and motivational all at the same time and I am very pleased to see how each of those efforts blended together to create this final Musical Art Piece, I call Kissed by An Angel. It's pretty cool to think that I now will forever have a lyrical autobiography reflecting my life as a 21 year old that I can reminisce on later in my journey.
NP: If you had to do it all over again, would you still choose this career? Would you do anything differently?
I would choose this career in every lifetime, 10x over, again and again, to infinity and beyond and then seven times over again – and I wouldn't do anything differently. I am so honored, humbled, and thankful to be exactly where I am right now and I wouldn't even change one of my experiences because I know each trial thrown my way has played a big role in developing my character, my career and my artistic expression.
NP: How has being an artist impacted your life?
I love what I do and do what I love and I am so thankful to be able to call this my profession. I started singing in Church as a little girl, was on Univision at 5, I was playing guitar and writing songs at 10. I won multiple songwriting contests one of which led me to meet the staff at Remote Control Studios- home of Multi-Grammy winner, Hans Zimmer. And before my High School graduation at 17, I was signed as a Songwriter to Burnett Music Group.I have written over 150 songs to date and one of my songs was on the television network TLC. Being an Artist is all I know and I love what I do and I recognize this is part of my identity.
I take my career very seriously and even more so after meeting #angels across 8 States during my recent tour. When I get messages from them saying how one of my songs is the reason why they got up that morning, I realize it is a huge responsibility and duty and honor to write songs that inspire, encourage, motivate and bring joy and comfort. I also enjoy singing covers and songs my angels request and I try to get to as many as possible and post them on my Instagram.
Music is a big part of everyday life and I am committed to making my music the very best experience. Creating that new vibe, writing that new melodic rap and putting all the pieces together to each new work is my passion and what I want to do forever.
NP: How do you plan to outdo yourself come the follow-up release?
Every year in life, we change a little bit, we learn a little bit, and we grow a little bit, but as music artists it is our privilege to reflect that in song. I am always striving to improve myself, my songwriting, my melodies, and my lyrics so my prayer is that every release will reflect a new stage of growth and creativity.
NP: What will be your strongest memory of the recording of your "Kissed By An Angel EP"?
Graduation is dear to my heart for many reasons. While on tour and performing at High Schools across the nation, I was touched by many of the stories both the students and administration shared with me. If you listen closely to the lyrics you will see that graduation has a deep story. I heard about bullying, rape, suicides, suicide- attempts and depression. Many times I was in tears over what I heard and follow-up DMs. I hope all these kids know they can get through the hard times and I hope they hear it loud and clear in the lyrics of this song "just let the rain wash your fears (and tears) away."
NP: Did you struggle with song order at all?
Yes! I played the EP in different orders a bunch of times for a couple of weeks. I asked my team, a few friends and family for their opinion before finally getting a unanimous decision on the order! We all knew this was it and I am very pleased with the order.
NP: Are you the type of artist that comes to the studio with a lot of extra material to choose from, or do you generally only write the number of songs you'll need for an EP or album?
I am always writing new songs so I walk into the studio with a lot of material to choose from, hoping I can finish early, knowing I probably won't. We usually already know exactly which tracks I want to record when we go in for a recording session. That being said, I have so many songs that I want to record and release but I realize it all takes time and it has to be quality work.
NP: Being a musician is obviously a hard career path that many people try and pursue, what makes it worth it for you?
Every part makes it worth it. The songwriting, the recording sessions, the completed projects, touring, the fans/ #angels, the concerts, the people I meet along the way. The smiles, the laughs, the connection, the struggle, the hard work, the tears, the joy, make it all worth it. I know with every bone in my body that this is what I was born to do and I do what I love because I love what I do.
NP: What is it you'd like a listener to remember the most when hearing your music for the first time?
That there is beauty in kindness and hope at rock bottom. I hope my EP will elicit an overwhelming sense of peace, love, goodness and encouragement for everyone who takes a moment to listen.
Join Destiny Malibu and over 100,000+ #angels on their own path with Destiny!
Follow Destiny on:
Website: DestinyMalibu.com
Instagram: DestinyMalibu
ReverbNation: Destiny Malibu
YouTube: DestinyMalibu
Facebook: Destiny Malibu
Twitter: DestinyMalibu
Soundcloud: DestinyMalibu
SnapChat: DestinyMalibu
By: Natalie Perez