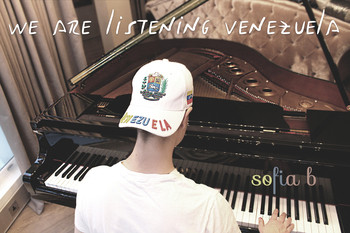 Hello there all amazing music loving people on @skopemag.com. It is so good to be here today. We have so many amazing artists on here, but today we have Sofia B and how she is using her music to expose the struggle and plight of the people of Venezuela. It is truly heartbreaking to think of the horror they are enduring. Before we get into that lets check some music news. First up, Sire Records, one of the most revered and influential labels in modern music, is being reborn during its 50th anniversary year. Effective August 1, widely respected A&R executive Rani Hancock will become President of Sire, based in New York City. Legendary music executive Seymour Stein, who co-founded Sire Records with Richard Gottehrer in 1967, will continue to bring his wealth of experience and wisdom to the label as its Chairman. In other news, unlike many music-related projects on the Ethereum platform, Viberate does not operate in the recorded music sector. Instead, the founders are focusing on the live music market, an industry they have been living and breathing for the past 15 years. They are a group of music executives and creatives, including one of world's biggest techno DJs and producers, UMEK. Their goal is to solve problems the live music market has been dealing with for decades. Viberate's end game is to offer any musician on the planet the opportunity to open a profile for free and start offering gigs to event organizers in exchange for crypto coins such as Bitcoin, Ether, or their very own Vibe. So now we are here with Sofia B and her tremendous single, "We Are Listening Venezuela." Usually I do an intro but due to the timeliness and urgency lets get right to it. @skopemag is praying for the suffering folks in Venezuela!
Stoli: Where are we talking from today and are you sad to see summer slowly leaving us?
SB: Hello! Ah yes, I'm very sad that summer has departed. I'm back in London after a recent two week trip to NYC, and actually London sunsets are pretty incredible around this time of year, so not all is bad.
Stoli: How was your summer and did you get to attend or plan any music festivals?
SB: My summer was really busy this year, actually. Was super lucky and got to perform three different times at London Pride, first, with DORYAN, for his song "The Rest Of Us," in support of Pride in London, Natalie Grey, on the Women's Stage hosted by DIVA Magazine and at Butch Pride, where I performed my solo stuff at one of London's best lesbian friendly venues "The Glory." The event "Butch Please," was sold out and was just an incredible way to finish off the day.
Stoli: At what age did you take on the alias, Sofia B and what drew your passion to music?
SB: Sofia, is actually my middle name. Some of my family members actually call me Sofia, but my first name is Hilda. I chose to go with Sofia, because it means Wisdom and I felt that Hilda was just what my friends call me.
When I first released music in my early 20s, I went just by Sofia but then realized that it would be more unique to add B on the end, which is the initial of my last name. It's almost like a reminder to be wise! Music has always been a safe haven for me, so whenever I felt disoriented or happy or in love, whatever the feeling was, there was most likely going to be a song out there for me to relate to.
Stoli: I love that you attended Berklee in Boston on scholarship. How did your years in this vibrant city help evolve you as a musician and your sound?
SB: Boston is an incredibly tough and resilient city. I was in my last year when the Boston Marathon bombings occurred. There were many times when I had to visit the hospital after a pretty complicated and long winded diagnosis with Crohn's Disease and the Brigham and Women's Hospital, hands down, saved my life. There was a moment right before my third year of college, that I was considering giving up songwriting and focusing on music business.
Ironically, that was about the time I got sick. The fact that I had stopped writing for the love of it, was when I began to take my life and everything a little more seriously. I began to look at life the way I did when I fell in love with music. Berklee gave me the tools to know, I was qualified to do it and a network of incredible people to help guide my way.
Stoli: You grew up in Venezuela but now reside in London. How was your childhood and was music a large part of your family home?
SB: I. My dad plays the guitar and I grew up listening to him playing the blues. My mum used to love playing Elvis Presley and Harry Bellafonte on the way to school. I started playing violin at 5 years old mainly because my dad also played violin growing up.
Stoli: How did you decide to move to London and how were you able to assimilate into the UK way of life?
SB: We moved to Caracas when I was three months old and then back to London when I was five. Things started to get rather tumultuous in Venezuela so my family decided that it would be best to move back to London, where I was born. Integrating into London life was definitely a struggle for me, even though I had attended the British School in Caracas. The change in weather, the difference in mannerisms, expressions and other British things that I was just never exposed to in my family. My dad is Lebanese and my mum is Venezuelan, so in a lot of ways that drew a lot unwarranted attention in itself growing up.
Stoli: Your beautiful song, 'We Are Listening Venezuela' was released in July 2017. What inspired you to write that song and how has the response been back home and abroad?
SB: I actually wrote the song when I was still living in NYC several years ago when the student protests began and Miss Venezuela was murdered. Everyone I know who is Venezuelan, is usually moved to tears, because honestly what is going on is just unacceptable.
People who aren't from Venezuela, however, can appreciate how delicate and beautiful of a vibe I wanted to create. I purposefully wrote the bridge in Spanish, as I'd never released music in Spanish before, even though I'm fluent. I guess I'm just wanting to share another side of myself.
Stoli: It is truly awful living conditions in Venezuela. If you were address 2 issues that are the catalyst for all this chaos what would those be and how can they be resolved?
SB: Nicolas Maduro, is currently operating an extremely corrupt, violent and unpatriotic regime in Venezuela, so he needs to step down or call for an election immediately. I suppose the second best thing I can do to illuminate the situation, the latest iPhone X, would take 12 years for the average Venezuelan to be able to purchase on the current national salary.
Stoli: Any inspiration to make a music video for 'We Are Listening Venezuela' and if so what would the visuals be to define the song?
SB: I've often thought about making a video, but being the perfectionist that I am, it really means a lot to me to make something poignant, albeit lighthearted. Nobody wants to be a Debbie Downer or Preaching Petunia so to speak haha.
Stoli: Do you still have family back home and if so, how can we help them and the Venezuelan people as a whole?
SB: I don't have many people I know left in Venezuela, as it really is just that unsafe. The best thing I can recommend, is for those who are not Venezuelan, to educate themselves and raise awareness. Keep the conversation going. Don't let it slip your mind, even just a positive thought in honour of Venezuela, helps.
Realistically, it is the job of Venezuelans outside of the country, to do everything they can to raise awareness, and many people of note already have, including conductor of the LA Philharmonic, Gustavo Dudamel.
Stoli: When you are not making music what other passions do you enjoy in life?
SB: In the last year or so, I've really gotten into photography. I grew up listening to Bryan Adams and he also happens to be a photographer. I suppose I'm fascinated by the concept of capture snapshots of time or emotions.
Stoli: What is coming up for Sofia B and where are you @ online to follow & like you?
SB: I'm going to be playing on September 26th at the Phoenix Club supporting Hugo Valentine (check the link below) which should be really good fun. Otherwise, I'm working on a tonne of new music, but am in no rush to release, as I have been developing my sound and songwriting skills quite a lot and am sort of wondering what will continue to come out with new found sense of freedom.