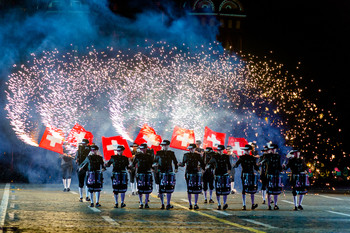 'Spasskaya Tower' Festival is taking place at the Moscow Red Square now. You have an opportunity to see X International Military Music Festival till the 3rd of September.
Spasskaya Tower is a music fiesta, a spectacular show, staged on the background of the monumental walls of the Kremlin, and a great 'battlefield' of the bands from different countries fighting for the love and admiration of the audience. The harmonious combination of military, classical, folk and popular music, military band parades and dance shows, laser and pyrotechnical effects makes the Festival one of the brightest and most memorable events of the year.
Tix: http://kremlin-military-tattoo.ru/en/tickets/
Participants from Austria, Armenia, Belarus, Egypt, India, Italy, Kazakhstan, China, Russia, Turkey, Uzbekistan, Switzerland and the European Union perform at the Red Square in Moscow. The Chilean equestrian band Escuadra Ecuestre de Palmas de Peñaflor demonstrates its skills as a part of the day program of the Festival.
The 10th anniversary of the "Spasskaya Tower" is the main theme of the Festival. In the course of ten years, more 150 bands from 50 countries have taken part in the Festival, many foreign orchestras became permanent participants and real friends of "Spasskaya Tower". It has become one of the most important military tatoos in the world.