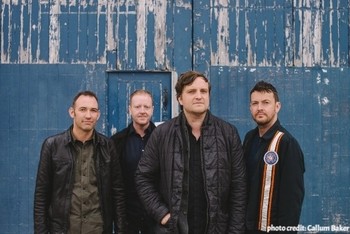 Firing on all cylinders as they blast back into public consciousness, Starsailor have revealed another track from their upcoming album All This Life, which is set for release on September 1st via Cooking Vinyl.
One of the most upbeat tracks from the album, both lyrically and musically, 'Take A Little Time' bounces with a pulsing bass groove and driving funk beat, featuring glimmering guitars and vocals that glide into soaring falsetto, invoking a joyous message about staying true to yourself.
The track follows the release of the album's title track single 'All This Life' as well as the introductory 'Listen To Your Heart'. All three tracks are now available as instant downloads with pre-orders of the album.
All This Life is the band's fifth studio album and their first release since 2009, showcasing Starsailor as a reborn and re-energized band, making outstanding music which will delight their existing fans and inspire a whole new generation to fall in love with them.
The album will be released on CD, vinyl LP (standard 12″ and limited edition coloured 12″), and digital formats.