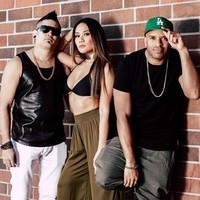 ZupaNova are a trio consisting of Kimala, who expresses true beauty naturally with her loving character, but ultimately, through her passion for singing, songwriting, fashion modeling and consistently evolving swagger. Davy Brown, who is a multi-genre music producer, recording artist, songwriter, composer, arranger, multi-instrumentalist, recording engineer, mixing engineer, mastering engineer, graphic designer, film editor, and music educator. He plays drums, percussion, bass, piano, guitar, and is a classically trained pianist. And Rawcel, formerly Roycel who got recognized and recruited by Interscope Records recording artists The Black Eyed Peas in 1993.
https://www.facebook.com/ZupaNovaMusic/
I guess you can say they're influenced by the Black Eyed Peas, but it really isn't in the music so much. Fronted by a force to reckon with just like Fergie, with a long way to go to prove it, Kimala delivers the goods. And that is backed by two compatible musicians, which is the only thing to call them because they aren't just rappers. And this isn't your daddy's hip-hop either, "Where Dat Weed At" aka "W.D.W.A." is an explicit single and video. It's the second of two such single/videos to cover because it helps to hear more from anyone in-order to lay down any opinion worth reading about it. The song itself to begin with is catchy, well-produced and just on top of everything it's all about. The lyrics are obviously easy to guess in-the area of subject matter, so let's move on and get down to the nitty gritty. On top of a fine production there's a searing guitar solo and it helps carry the song along. If you can't notice that it's not going to get any better. It's the best thing to be said about it, without the video to add the bells and whistles on a track that does the business with or without it. You could easily take the vocals out and see that much, and more. But the vocals are also fantastic, like the lyrics or not.
You're in the right place if you do like the lyrics, and get over it if you don't. This is 2017 and it comes with a label so there's nothing to discuss, you either dig it or you don't. It's all beside the point no matter where you come from. ZupaNova seem to be a permanent fixture so get used to it. The video is well done and yes, very graphic to go with the subject matter. It basically features Kimala and gives her a chance to shine around the boys who also put in a fine performance. There are no punches pulled within the guidelines of any good promo clip, and it's produced and directed very stylishly.
They have a fashion-oriented thing going on and it carries over in their shows, and some of that can be seen on their website. It's half of what they do, so it's worth mentioning that aspect of ZupaNova. Their first video is a good place to start if you want to hear what else they're made of, because it's way different, not being about anything but "Energy" which is the title of the single/video. This is a positive track with a completely different side of them, which can be said in vice versa, since it was their first, rather than the current single, but coming from my view it's best to hear both if you want to know how good they really are.
Larry Toering