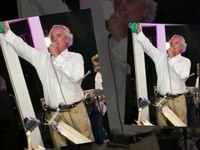 During law school, the music of Skipper M. Drost became more than a hobby playing in various drinking establishments in and around New Orleans, La. earning enough to pay for law books. After graduating from Loyola Law School, his passion for music continued, playing once again with his family band in and around his hometown, Sulphur, La. Drawing on his personal experiences, his debut CD, Down Along The Bayou and the new CD, For The Money explode with songs of his life, a life of gaiety, heartbreak, love, compassion, intrigue and laughter. The emotions reflected in each verse will strike a chord of memories. That's just some of the background to be found on Skipper, but the latest CD – For The Money is the main concentration of this review. This is a country artist of the traditional order with some strong pop, gospel and soul elements to top his sound, approach and style very nicely. The CD kicks off with "Jesus Is Coming" and it opens and closes on a good note. It's a solid rocking tune with great female background vocals to spice it up. It's no easy to follow such a good opener, so the rest of the disc does leave instant room to ponder. But it's a good thing Skipper is a pro with a pro attitude.
CD BABY: https://store.cdbaby.com/Artist/SkipperMDrost1
The next track, "Tell Bradley I Said Hello" gets underway with a softer approach, led by a light piano riff that gets taken over by a well-delivered vocal that nothing bad can be said about. Everything about it is great, and it's because of the narrative singing which plays out like a story with Bradley as the main character. More female vocals in the right places add a pleasant texture to what is just a good song. The same can be said for "I Guess I Am" which rocks along the same lines as the opener, but the thing you know by now is that there is no second music likely to be had on the disc. If you don't like country or country rock, this is not for you and you will not agree, so like anything else it matters what you like, and this is as good as anything around. It should be exposed within its own circles on a global scale. There's too much hiding out there, so why not recommend a good thing when you hear it. "Love Me Back" is another rocker with a little less countrified sound. It's a straight forward pop song with a southern vibe, as opposed to the previous tracks. It almost follows the Blue Suede Shows style. Just another traditionally good song to go with the others so far. "Fat Like Me" is where the humorous side of Skipper comes in and it doesn't hurt any, because he does it more than once on the album to make it stick. You get the idea pretty-easily as described, that it's an all-around good record with some variety on it. "Crying In The Wind" is a war song to keep everything going in the country vein, at a mellow pace. And other tracks worth checking out are the title "For The Money" and the even more humorous charms of "Evelyn Gay." All twelve tracks have something for the country music lover to enjoy, along with some rock, gospel and pop anyone can appreciate.
I-TUNES: https://itunes.apple.com/us/artist/skipper-m-drost/id444607626
Larry Toering