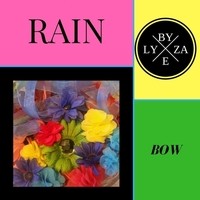 To start with, Elyza is a solo female artist from the Charleston SC area who began her songwriting and singing career in 2013. Her songs, about love and relationships, have a flavoring which she feels is unique to her personality. Currently, her songs are being played in over 131 countries and in all US states, on RadioAirplay.com. Elyza released her first CD, Lovers Tango, in September of 2015. Rainbow, her newest CD, was released April 2017, can be found at CD Baby.com and Apple Itunes. While she continues to write, her dream is to become a name on someone's record label. Her albums can also be found on YouTube under various artists.
URL: https://elyzas.hearnow.com/
The Rainbow CD kicks off with the upbeat tones of "Heart Breaker" and it comes with some almost humorous lyrics, which mostly come off very witty. The vibe is playful but her words are to be taken just as seriously. The observation is that there's a lot of fakers out there, and she works it all out about that. It falls somewhere between the lounge and the dancefloor, with everything from a piano to horns backing her. It's a good opener that sets the mood up for more of the same, but that is not exactly what immediately follows. So, it also stands on its own two feet that way as a solid opening cut.
"Praying For A Sign" keeps the same level of musicianship up but it plays more like a ballad. This is not to be expected after the first track, but serves its own purpose to get the lyrical message out. It's going from being fragile to being as strong as a magnolia tree. It lends more to the next track than the former does, but "Why'd You Do Me That Way" turns out being the better of the two. Yes, it does give a nod to Michael Jackson for the title, but not everyone will spot that. And the track doesn't follow any other path of his, other than the same phrase of the title to build on. She came out with a good track of her own.
"Lovers Tango" continues like the dance lesson it is about, and it features more piano around a brooding ballad that eventually picks up the pace but doesn't take it off course from the vocal refrain. This is one of the smokier pieces on the album. There are some island vibes on this one which haven't surfaced yet, and it's worth pointing that out because much of that is mixed through the songs, but not all of them. The title track, "Rainbow" for instance, doesn't have any of that element but does just as well without it. And while not being one of the stand out tracks, still shines a light on this album.
"This Fire" is one of the more energetic tracks with a low-end sound and syncopated beat tracking. The piano seems to be the main instrument in her songs, and this track is no exception to that apparent ruling. But to be fair this does explore with some string backing, or a keyboard patch to cover it. Either way it takes the song to a level not heard on some of the other tracks. Elyza has a great voice to be heard on these, along with "What The Heah" and "Where Did We Go Wrong" which round them all out to be heard together one album which is her second release, and a good one for smooth jazz and R&B lovers.
CD BABY: https://store.cdbaby.com/cd/elyza4
Larry Toering