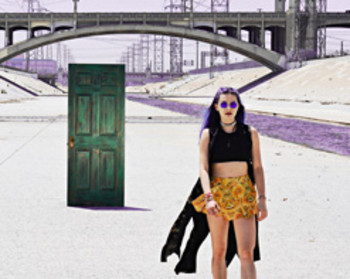 Here comes young indie singer, multi-instrumentalist, and producer Meresha. We've previously worked with this eclectic digital pop artist for the "New Revolution" and "My Love Has Come" music videos, either of which could rival the sounds of any major pop star today. She takes influence from the likes of Robert Plant, Joss Stone, Freddie Mercury, Hayley Williams, James Blake, Prince, and Björk.
With a handful of music videos under her belt already, Meresha's music has reached the Billboard Top 40 charts three times already, as well as being aired in many countries, including on various MTV properties. "New Revolution" held the #1 spot for an indie song on US radio for an entire month, and in December 2016 she was named the #6 global emerging artist on Billboard's Next Big Sound. Recently, she's been featured on Spotify's Discover Weekly and Release Radar playlists, as well as on iTunes.
Meresha will be releasing her next EP, Enter the Dreamland, on June 23. She partnered with multi-Grammy winner Joe Chiccarelli for the EP, and for the title track's music video she once again worked with five time MTV VMA nominee David Rousseau (Pitbull, Magic!, Enrique Iglesias, LMFAO, Christian Aguilera, Lil' Wayne). The "Enter the Dreamland" music video was filmed in Los Angeles and Malibu. The video opens with Meresha singing and performing in the basin of the Los Angeles River, when suddenly a door appears. She opens the door, and is transported to a secluded spot on the beach- a small slice of paradise, as the waves crash onto the sand and a gentle breeze blows through her signature purple hair.