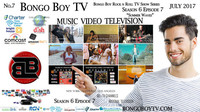 Bongo Boy Rock n Roll TV Season 6 Episode 7 SUMMER WAVES with rotation on 66+ TV channels in July and rotation in Philadelphia this month and later this summer in San Antonio and Los Angeles via Bongo Boy TV Network of Broadcast.
Aptly named Avantist's "Tidalwave" offers a perfectly update of the classic surf rock sound. Downright crazed the way the song weaves a wide variety of riffs into the mix feels masterful. Vocals rest front and center with the lyrics delving deep into a defiant celebratory spirit.
Tender in tone Travis Marsh's "Lay Me Down" goes for a bluesy, rich tone. Rather spacious in scope their intersection blues, pop, and electro goes for a physical style. Incredibly dense the song allows the listener to get lost in such inviting melodies.
The Doug MacDonald Band crafts a mysterious world with "Drawbridge Troll". Nicely building the song up the way the song opts for a commanding presence gives it a masterful quality. Lyrics reference a wide variety of storytelling traditions, from fairy-tales to urban myths all done with the greatest of ease.
A timeless easy-going jazz-inflected rock drives the passion of Suburban Myth's "Spirit Inside". Powerful acoustic guitars allow the song to have a bright and airy presence. Reminiscent of the Sea and Cake's thoughtful luxurious work with an extra dollop of energy, the song possesses such optimism.
Mista Roe's bass line glides by gracefully on the cool style of "Bees and Birds". Elements of R&B, hip-pop, and dance combine into a singular satisfying whole. Keyboards glisten adding to the incredible soothing vocals.
Rather gargantuan, Soundstream pairs together house and rave culture on the hyperkinetic grooves of "Reach A Star". Volume serves the song quite well for the entire piece bursts with incredible energy. Layer upon layer of sound interaction with such ease as the hopeful lyrics help the song soar to the heavens.
Website: http://www.bongoboytv.com/
By – Beachsloth.com