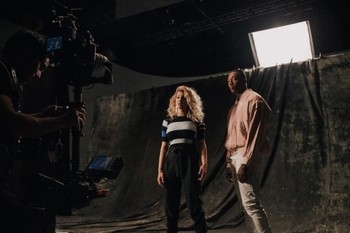 In support of St. Jude Children's Research Hospital, Grammy-Award winning rap artist Lecrae unveils the official video for his inspiring single "I'll Find You" featuring Tori Kelly. Filmed at the Glendale Memorial Hospital in Los Angeles, the powerful video was directed by Guerilla Hollywood's Michael Mihail.
Patients from St. Jude Children's Research Hospital also appear in the music video and were filmed at a studio in Memphis. St. Jude is leading the way the world understands, treats and defeats childhood cancer and other life-threatening diseases. Families never receive a bill from St. Jude for treatment, travel, housing or food – because all a family should worry about it helping their child live.
"For me, this video is my heartbeat. It's me showing my own pain, hope and passion for others. I want people to see there's hope in the chaos," says Lecrae.
Produced by Frank E (Wiz Khalifa, Kanye West) and Danny Majic (Flo Rida, David Guetta), the track showcases Tori's mesmerizing voice and passionate rendering of the song's chorus, paired with Lecrae's riveting lyrics. Both artists elevate the song into a cathartic plea about hope and the road regained.