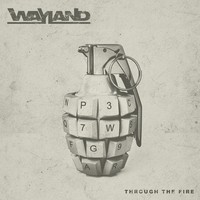 Wayland's upcoming album "Rinse and Repeat" was set for release this summer but was pushed back to be out in the fall instead. But the summer was not missed since the band did release the first single to come off this album called "Through The Fire". A song turned single made into a lyrical video for the summer is one hot shot way to cool your summer heat wave for one thing. For another Wayland is another rock act that you should not miss out on. Especially when it comes to a track such as "Through The Fire".
The track being the first glimpse into what to expect from the album "Rinse and Repeat" is quite something else really. It delivers that true blue rock edge feel with hard rock vibrations that takes you back to the early 2000's if not late 90's time frame of rock music. Wayland sounds a lot like other acts from back then like Crossfade to Bullet for my Valentine even. Except Bullet for my Valentine is perhaps a tad harder than these guys but Wayland is still a hard hitter of sorts to say the least.
Wayland sounds more like the other act mentioned Crossfade, while those guys were more laid back and easy listening type of sound, Wayland takes their style, except enhances it with being a tad more heavier and more direct in approach to their own material, which can be heard upon "Through The Fire".
It becomes one of those tracks you can hear definitely played on the radio whether it be online or offline in your car. That is what Wayland does with their music, they are a radio play act. Having their music being hard hitting, yet heavy duty with raw emotion, with captivating pulsing vibes that keeps it all flowing forward. When it comes to it, Wayland's "Through The Fire", is another one of those tracks that makes it more of an anthem type of track, than a summer sensation. It has those fist pumping moments, with head bobbing action, that makes it more fun and entertaining to the ear.
Comparing it to Wayland's previous works it sounds about the same, except "Through The Fire", sounds a lot more modern, than old school. It is a fresher sound, while it sounds as if it belongs in the 2000's to late 90's time, it still sounds more fresher for the modern day of music. If that makes sense at all to you then great, if not just go with that it sounds fresh, and how that alone makes it so unique.
This track does sound slightly similar to that of Bullet for my Valentine's "Tears Don't Fall" track, it has some tones of similarity, with embracive vocal work that drives the force of the song more so, making it much more appealing and intense of a listen. That is pretty much how Wayland's work ends up, whether it be their old or new works of art, in the form of music. It has intensity, appeal, and force of direction, that will guide the music into further development, as it has been shown within this track here.
By: Natalie Perez