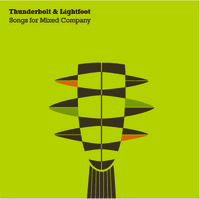 Michigan locals Thunderbolt & Lightfoot have a new album out called Mixed Company, which includes the track, "Let's Be Friends." Staying true to their soft, melodic tunes, it is the exact kind of music one has come to expect from the duo. Phil Barry provides vocals and guitar and Sarah Fuerst does vocals. Both have an impressive list of works and associated acts, and their work together showcases their experience in a truly satisfying way.
"Let's Be Friends" gives off definite Simon and Garfunkel vibes, with it's entrancing sounds. Fuerst and Barry have a haunting melody that left me almost desperate to hear more, which was especially odd for someone who doesn't usually like such soft songs. It starts off with the guitar before the two start singing, ready to mesmerize. Their vocals never outshine the other, and you can tell that Barry and Fuerst have plenty of experience with this, as their harmony doesn't falter once. That adds to the charm. Individually, their voices are so lovely.
I especially adore Barry's work on the guitar- it takes talent to make nothing but a guitar as accompanying music sound so great. It doesn't take away from the vocals, but it isn't forgotten by them, either. Balance is so important to make this song work, and they deliver.
It feels like Thunderbolt & Lightfoot have come from another decade, and yet there's something current under the surface- I could picture hearing this song on a movie, maybe as an ironic choice after a character's unthought of betrayal? The soft indie presence has been more noticeable in the past few years, marking a niche in the music world with it's reminiscent but distinct sound, and this duo holds true to that. I can see myself listening to them a great deal more in the future.
The lyrics are sweet and so nicely serene, matching perfectly with the vocals and guitar. It left me feeling wistful and nostalgic, missing old friends and even the idea of people I never knew. It's about, as you can imagine, friendship and the how this one in particular has stood the test of time. It's beautiful in it's certainty that the person they're singing about would never stray. The gentle, peaceful reassurance is so lovely to hear. There's an otherworldly quality that I can't get enough of, which lead me to put "Let's be Friends" on repeat.
If you like indie music and soft melodies that will leave you humming and feeling serene for the rest of the day, "Let's Be Friends" is your song, and Thunderbolt & Lightfoot are the duo for you. I would recommend them to most people, even those who aren't into that genre, if for nothing else than to show the excellence of Fuerst and Barry. They know what they're doing and it is so impressive to listen to. I cannot wait to listen to the remainder of this album- I hope the rest of it has such wonderful qualities.
http://www.thunderboltandlightfootband.com/
Victoria Patterson