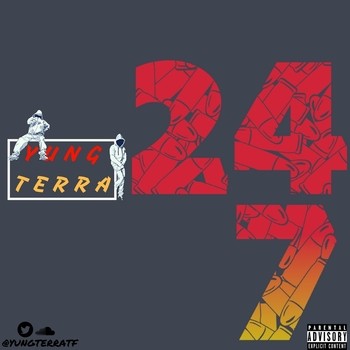 Hip hop and rapper Yung Terra is an up and comer straight across the sea from the South East London terrain out in the U.K. Since getting his start with music at the start of such a young age, he's been keeping busy all this time. Having release a few sources of material, as well as a new EP in the works with other projects underway. There is no stopping Yung Terra not one bit, nor at all. He himself took some time to discuss his upbringing's with music and what he has planned.
NP: Can you give us the rundown on who Yung Terra is and what is it that you do?
I'm a rapper from South East London. I can't really think of any other way of explaining what I do. [Laughs]
NP: Why did you think using your name Yung Terra for this project was the right choice for you? Why not go forth creating another name to use as a stage name for this project?
When I first started writing lyrics, I used to call myself Yung Terra, It changed when I got a bit older but before I started releasing music I decided to go back to it.
NP: How do you balance your music with other obligations – mate, children, job?
Sometimes it's hard to always be in the studio as I got other commitments like family etc.. I'm currently studying as well so that takes up some of my time. There's a good balance at the moment though, everyone around me is supporting the movement and I'm working closely with my boy AT (ATrap), as you know he's on the track you guys like (Back Roads) and we've got a couple more things coming. Check him out on Soundcloud and Twitter @Atrap24.
NP: What do you practice – exercises, new tunes, hard tunes, etc.?
I'm always trying to write new music. I think it's important to keep coming with new stuff.
NP: How often and for how long do you practice?
Hour a day, maybe more if I'm in the zone.
NP: What types of music do you create, can you disclose to those who may not know?
At the moment what I've recently released has been Trap/Drill but I'm planning to change up the vibe. Not like a complete different genre [Laughs], switch up the rap styles, try different tempos and melodies. The aims to not make every song sound similar and predictable.
NP: Why did you go in the direction with this particular genre choice, out of all the one's available? What was it about this one style that stuck to you the most?
I've listened to rap music from like the age of 10. Back then it was more Hip-Hop from the U.S, the first CD I ever got was Eminem's Curtain Call and once I heard that I was hooked!! I can't lie. I didn't even fully understand the content or know anything about rapping [Laughs] but the whole album was live. Then through my secondary school (high school) years that's when I started writing, growing up in London Grime was the Genre !! Online media channels like SB.TV & Grm Daily just to name a couple were known for having sick artists, so you're always chatting about new freestyles or music vids. Fast forward to 2017 you've got loads of producers making trap or drill beats in the states, UK and Europe. I can't listen to too many because some sound too similar but it's one genre I like rapping on.
NP: What are your songs about, what types of themes or topics do they cover?
I would say my songs are about my life, my goals/aspirations and past experiences, stuff like that. I'm at that stage in my career where people don't know much about me or what I aspire to be so hopefully after the first project, it should all be a bit more clearer.
NP: Would you say that you write your own songs? Can you describe your song writing process for us?
Of course !!! [Laughs] I'm not down for someone writing for me, nothing against other artists that use songwriters but me as a rapper I'm trying to tell my story. I try to keep the process natural, don't wanna force it too much but I like to dedicate time in the day or week for me to listen to instrumentals. Just keep it simple, either at home with my headphones on or I'm at my boy's yard.
NP: Which famous musicians do you admire? Why?
I like a lot of artists that are representing the UK scene. One of my favorites is Ghetts, If you haven't heard of him he's a well known Grime artist. Definitely one of the best out of the UK.. Search him up!
NP: Which famous musicians have you learned from?
I wouldn't say I've learned to rap like or from certain artists because then I'm not really finding myself as a musician, if you get what I mean. But definitely one thing I've taken from artists that I respect highly is that there's levels that separate good from being great. Like in my opinion to be considered above average over in the UK, you've gotta have something different as well as flows and content in your lyrics.
NP: When and why did you start playing?
I started around like 15.
NP: Which instruments do you play?
Naw I don't really play any. I used to play the steel pans when I was in school and when I was younger the trumpet. [Laughs]
NP: What was the first tune(s) you learned?
First rap tune I learned I think was either Eminem 'The Way I Am', 'Without Me' or 'When I'm Gone'. Like I said that was my first rap album so that was on repeat ! [Laughs].. I learned a few songs on the keys off YouTube I think the first one was Bedrock by Young Money.
NP: Would you say that your family is musical?
Yeah I suppose.. Growing up you hear a lot of gospel and reggae being raised in a Christian family, you go church and praise god through song as well as hearing the preaching. But I swear down church installs some sort of rhythm in you. Family members were getting down in there [Laughs].. There's not many rappers in the family, a lot listen to it though.
NP: Can you describe your family member's musical interests and abilities?
I've got a cousin that sings gospel and reggae. Few distant family members that sing the same genre as well and I got one cousin that does Grime. My marj (mum) listens to a lot of current music I listen to like Hip-Hop, Rap/Trap, Afro Beats/Swing as well as the old tunes she was grown up on. It's nice to know she supports man and I'm making music that she can vibe to in her whip. [Laughs]
NP: Where would you like to take your music, like where do you see it in the next couple of years from now ?
Next couple of years, I've gotta be shutting down shows man! I'm not gonna exaggerate and be like sold out shows across the globe but at least more than 10 minimum !! [Laughs].. Apart from that I just wanna be making music and getting recognized for my work. More importantly I'm just trying to provide for my family and give my people more good days.
NP: Are you working on any other types of projects besides this one Yung Terra ?
Currently I'm just working on getting this first E.P '24/7' done. I've got some visuals coming out real soon, that's the next thing especially for these two tracks I've released. And in the mean time I'm working with my boy AT like I said, he's got a project 'Thoughts2Funds' coming and you can expect to hear me on that. It's gonna be live still!
Apart from that you might get a few features from me. I've got some hard producers that drop me beats or I've worked with, shout out LA BEATS, Jvstice Beats, KSN Beats, Vader Beatz & Mizzy Productions cause these man have supported the movement from early. If anything, I would say best way to keep updated about what moves I'm making or who I'm working with, is my Twitter and Soundcloud @YungTerraTF.
By: Natalie Perez