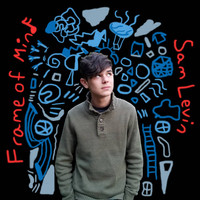 Sam Levin's delivers a touching, ornate chamber pop with the intimate "Frame of Mind". With vocals and highly descriptive lyricism reminiscent of Kip Hanrahan's solo work, the songs describe relationships, all the yearning and the way that people slowly move away from who they used to be. Instrumentally, Sam Levin employs a wide variety of styles throughout the album, going from a smart indie rock to an impassioned folk, all the while framed by a clear adherence to pop. By opting for such a range, the album has a nice ebb and flow to it while it passes by.
Stream the album via Bandcamp: https://samlevin.bandcamp.com/releases
On "Everything's Okay" Sam Levin opens the album on a high note. Influenced by Anna Meredith's modular take on pop music, the way the layers build up gives the song an intricate, swirling scope to it. With a loose jazzy feeling is the sunny sound of "Setup". Passion pours out of the journey of "Ride". Tactile with its bouncing beats is the playful minimalism of "Hide and Seek". Featuring a ramshackle shaggy dog story is the nimble work of "I Sure Hope Not (Again)". "Telescope" strips the sound down to its absolute essentials with the moody guitar work and vocals adding to the overall dreamy quality of the track. Nicely intermingling elements of electronics and rock into a satisfying whole is the surreal world of "Metronome". Ending the album on a high note is the warmth of "Tru Mo".
"Frame of Mind" reveals the unique vision of Sam Levin in tying the album together into a virtual love letter to the listener.
By – beachsloth.com