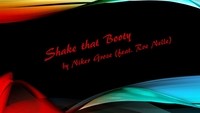 Niker Groze delves into a classic funk with the party-starting sound of "Shake that Booty (feat. Roe Nelle)". Catchy to its core, the playful spirit of the sound recalls an updated Parliament. Just like that classic band, Niker Groze delivers stunning bass lines and an irresistible groove. Lyrics further emphasize the carefree spirit that comes to fully define the all-consuming sound. Vocals help add to this overall power, from the happy singular voice to the celebratory chorus. Electronic manipulations are utilized to great effect, as everything seems to exist within a glorious neon-hued sea of sound. Right at the very center of it all is an incredible amount of heart and soul.
With taut guitar work, the song starts on a dime. The way the song nicely balances between sly funk, dance, and jazz feels masterful. Little flourishes go a long way, from the flute that occasionally punctuates the piece to the synthesizer swells, it all works. Various melodies pop their way into the sound, as there is a slight element of nostalgia that Niker Groze lets flow within the sound. By remaining so delightfully unhinged, the song feels so communal. Downright physical, the song virtually demands to be played as loud as possible, for the sound needs to be felt as well. For the final stretch of the track everything is let loose in a blissful rush.
https://www.facebook.com/nikergroze
On "Shake that Booty (feat. Roe Nelle)" Niker Groze lets it all loose in a wonderful rush of undeniable energy.
By – beachsloth.com