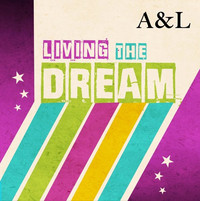 "Living The Dream" by A&L, Anthony Casuccio and Lana Marie for those wondering on what the A&L represented. is the sixth single for pop punk friendly duo of sorts. According to them they had quite a lot to say about their latest addition of singles "Living The Dream".
For one, Anthony Casuccio says "We have seen a lot of division and vitriol lately." He adds that "This track stands as a referendum/response against the angst."Going on with " You can be knocked down and talked down too, but living well is the best revenge." Lana Marie says "This is another Casuccio written song that will get you singing along." "The bridge channels my Shoegaze days" says Casuccio.
So by the looks of it "Living The Dream", is quite the track to listen to, since it's division of quality, style, and sound is really outstanding according to the duo themselves. The song's lyrics covering how as they say you can be knocked down and talked down upon but living well is the best revenge. Somewhat saying that your life is worth living out, as long as it is to its best content. Is sort of what I am understanding from their words of expression in their quote. If that was not the proper context of the lyrics for this track then forgive for misunderstanding the meaning of the words.
As for the song itself though, it is clearly pop punk based. More poppy with the pop vocals with punk rock flair of the guitar tones and drums done by drummer Rich Smith, who has played on previous releases. Matt Sunick nailing the bass lines within the first take while in the studio, where this track was recorded and written. Having very little to no time or takes needed, for it to sound just right.
Which is how it ends up really. This track sounds just right. Everything on it is quality perfection. The sound is done really well, production quality front and center, instrumentals and vocal chords, played out rather nicely, bringing the music full force in stylish mannerisms. Vocal-wise though the song does preserve more of the pop vocals than punk rock vocal tone, as Lana Marie takes on those reigns of abilities, her style being crisp and clear as ever. Her tone of voice, bringing out this hyper active mindset, that can be heard within the track itself, making it more bouncy and upbeat. Whereas the punk rock flair is embedded throughout, allowing for the guitar, bass, and drums to be more thought out. Like the guitar has its moment to shine with a guitar solo, whilst the bass and drum work, keeps up with their own line of structure, closing the song out, with an upbeat undertone of craft and edginess.
All in all though A&L's newest single "Living The Dream", is one heck of a number. It brings forth two genres of choice, having the two craft together, to stand out, sounding catchy, upbeat, and downright fun. For are we all not "Living The Dream", of which we want to fulfill.
http://www.facebook.com/AandLmusic
By: Natalie Perez