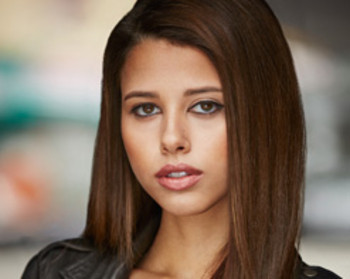 From the early age of three belting out classics like The Little Mermaid's "Part of Your World" or Britney Spears' "Stronger" on her parents' coffee table to performing at Carnegie Hall and Disneyland with her middle school choir, Kaleigh lives, breathes, and sleeps music, acting, and writing. This Los Angeles-area native has a diverse taste in music, movies, and TV; taking in a wide variety of genres and styles has allowed her to have a unique perspective as she writes her own music. When she's not making music, she's playing "Sasha" on ABC's hit TV show Speechless with Minnie Driver or "Jessica" on NBC's The Good Place with Kristen Bell or co starring on Nickelodeon's The Thundermans. A young but steadily rising star, Kaleigh already has so much to tell through her lyrics, stage presence, and stories.
http://www.lovealwayskaleigh.com/
With her new single "Fading", Kaleigh didn't hold back any emotion whatsoever. An alternative pop track, the edgy lyrics complement fluid melodies and aggressive tonalities. The message is powerful and inspiring: cherish the ones you love, and don't forget to tell them you love them. Kaleigh says, "Each day people get lost in the aggravation and turmoil of life and forget to cherish the people in their lives that love and support them most of all….[I] wrote this song as a reminder to people to stop and think about what kind of effect neglect or lack of emotional expression can have on a person you claim to love."
Directed by Kenny Taylor, the "Fading" music video features Matt Cornett (Speechless; Nickelodeon's Bella and the Bulldogs) as Kaleigh's beau. Looking wistfully out the window, she recalls innocent memories from when they were younger, like playing a board game, and how things have faded as they've grown apart and become distant over the years. Will they manage to reconnect?